Networking Style 101: The Outfits To Take You From Internship To Corner Office
Published on May 4, 2018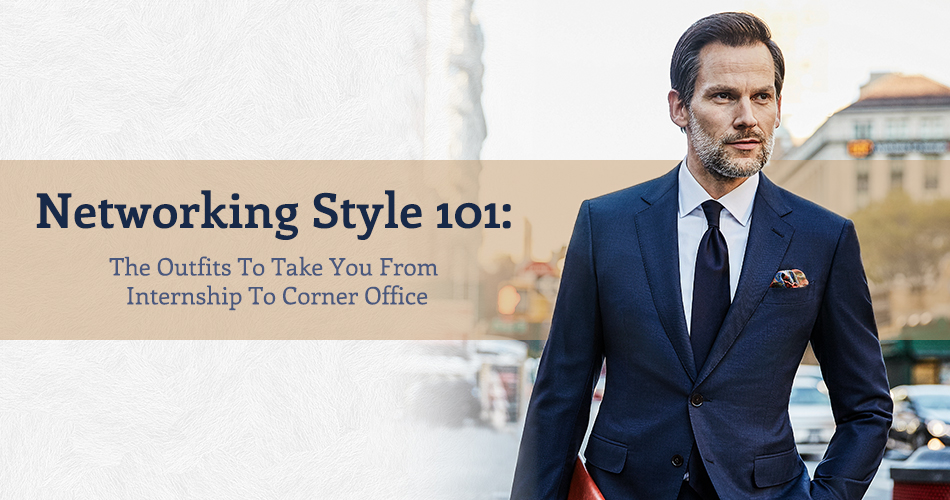 Wondering what to wear to a networking event to ace that first impression? Here's your how-to guide, complete with outfit ideas
Fade in on a conference hall in a generic chain hotel.
To your left, a swarm of stressed professionals are swearing at their fading smartphones and jostling for a position around the only outlets in the room.
To your right, the awkward crowd are gathering around the snack tables, sheepishly loading up on free cheese cubes and stale crackers instead of business cards.
A sea of mid-career professionals stretches out before you. The din of corporate jargon borders on deafening, and if one more person tries to push their branded swag on you, you can't promise you won't snap and pull a Patrick Bateman.
Networking is a love it or hate it game, but regardless of which camp you fall into, it's essential for getting ahead.
Success starts with dressing the part. Lucky for you, we're here to tell you exactly what to wear to your next networking event — and we'll even throw in bonus networking tips to boost your business savvy.
---
For The Job Fair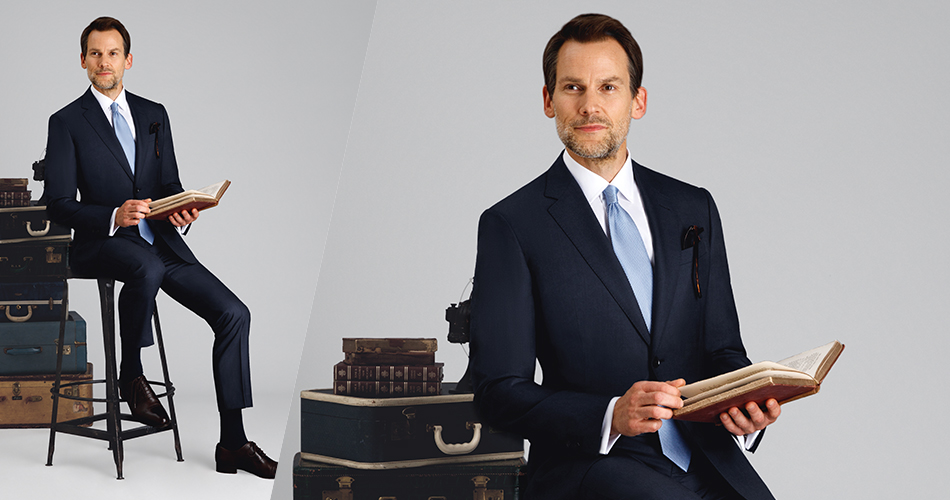 Think of job fairs as the corporate world's version of speed dating. Attendees could be faced with hundreds of potential connections vying for their attention, and you may only have minutes to make a mark before a wannabe Steve Jobs in a black turtleneck steals your prospect.
The most effective way to let everyone know that you're the most employable of the bunch is to rock a suit in a classic neutral like charcoal gray or navy. Resist the urge to go full Gordon Gekko – this is a time for classic, fail-safe suiting with mass appeal. Pair it with polished shoes and your favorite power tie for a just-unforgettable-enough look.
Back To The Drawing Board: If there's ever a time to retire your 2-inch-too-long trousers and linebacker-worthy blazers, it's now. Any corporate drone can pick a suit off a rack. It takes a mindful man to understand that a perfect fit is your no. 1 asset in the boardroom, sartorially speaking.
Best Practice: What goes with a smart look? A smart approach that starts way before you receive the "Hello My Name Is" sticker. Define your purpose ahead of time. Are you looking for a new job? Sales leads? Potential partners? Nail this down, then set goals accordingly. If you're shy, you may also benefit from setting specific objectives, like "Speak to at least 5 people" or "Stay for a minimum of 30 minutes".
---
For A Conference Or Seminar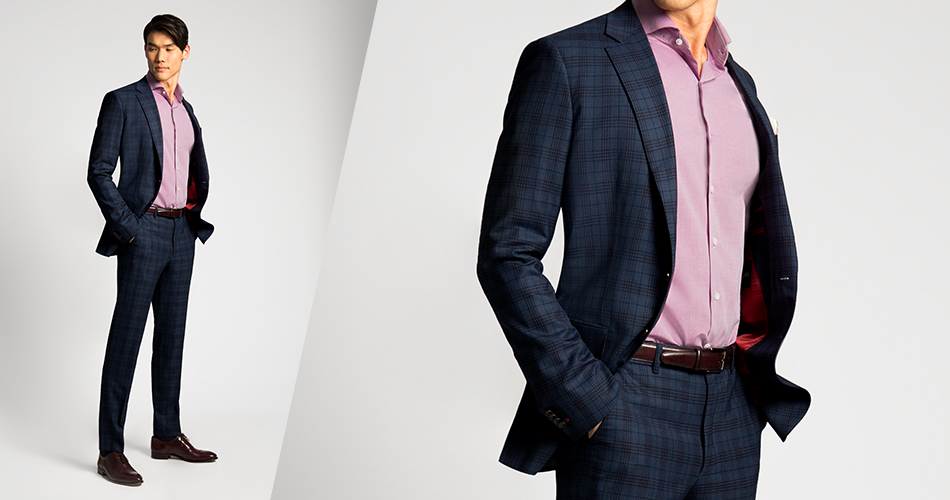 Conferences, seminars, and other professional events bring out your industry's biggest movers and shakers. Don't overlook the opportunity to impress the A-list with your dapper threads and a bulletproof elevator pitch.
Though looking sharp is still the order of the day, feel free to forego some of the formality of a job fair. Incorporate a detail or two that catches the eye and sets you apart from the hordes of attention-hungry guests. Pink oxford or lavender herringbone? Yes please. If that's too adventurous for your tastes, try an interesting set of cufflinks or a tie bar.
Back To The Drawing Board: Restraint is essential when incorporating trends. Aim for a subtle touch of flavor rather than a smorgasbord of flashy fads that will be passé by the weekend. Select one centerpiece for your look and design the rest of the outfit to support it.
Best Practice: Make like a Boy Scout and always be prepared. Being able to network effectively means knowing how to research effectively. Read up on your hosts, fellow guests, and any speakers. Come knowing who you most want to talk to and have a game plan ready for how best to pique their interest.
---
For The Lunch Meet and Greet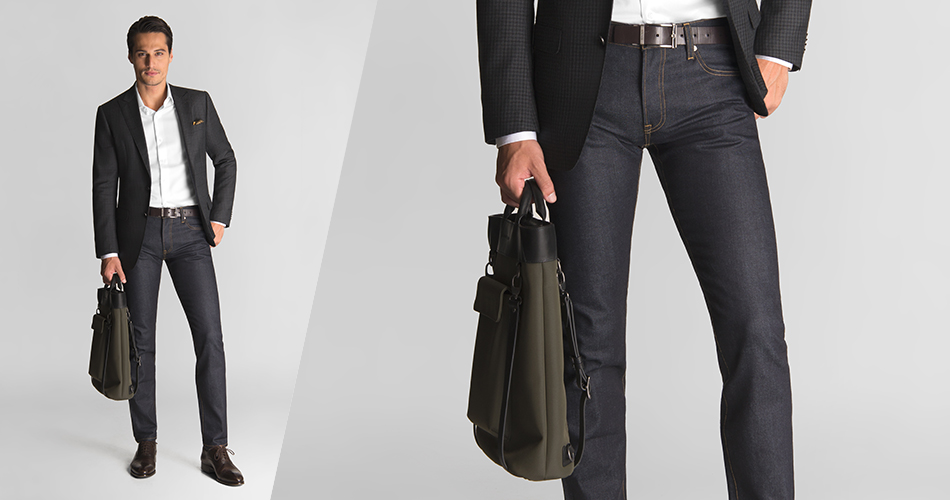 A friend has arranged for you to meet a connection at the Starbucks down the street. Since you already have a mutual acquaintance and the setting is casual, some of the pressure is off – but that's no excuse for breaking out your hoodie and Adidas slides.
Play it cool while looking low-key slick. Keep a sense of professionalism but balance it with a breezy vibe, e.g. a crisp button down with no tie and a blazer over your most polished jeans. Ace the details with a bold pocket square and don't forget to carry a great bag.
Back To The Drawing Board: Less is more when it comes to accessorizing. Ditch the diamond-encrusted watch and the chain that would make Flavor Flav blush. Wearing your entire retirement plan on your body screams "overcompensation." At the end of the day, there's only one accessory you can't do without.
Best Practice: What you say is only one piece of the puzzle. While you shoot the breeze with industry bigwigs, your body does a big part of the talking. Never underestimate the power of a smile, eye contact, and other hallmarks of magnetic body language.
---
Like What You See? There's More.
We'll send you style advice and intel for the modern man.
---