What to Wear to a Funeral For Men
Published on October 4, 2019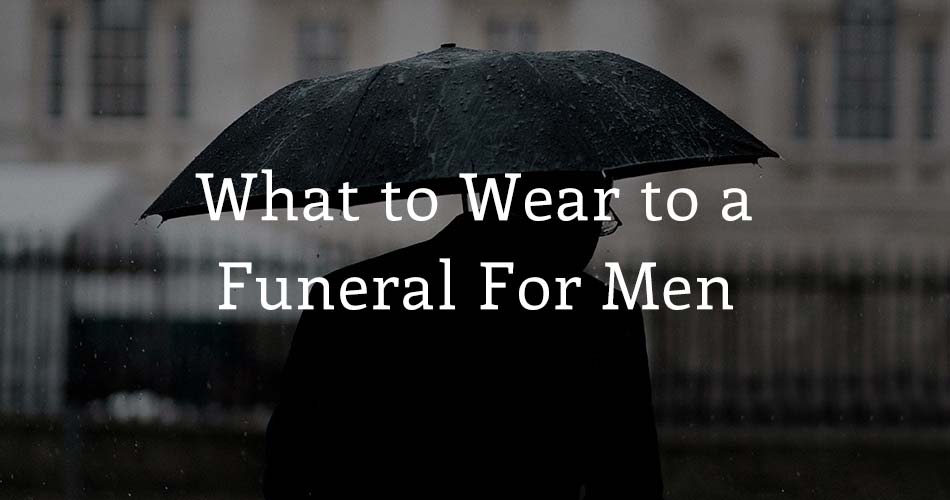 ---
A Guide to Men's Funeral Attire And Etiquette
There are about 7.5 billion people on earth. 
We come in all shapes and sizes, speak thousands of languages, and are spread across hundreds of countries, but as the saying goes, we all have two things in common — death and taxes. Well, these days, taxes seem to be optional for certain billionaires (we're looking at you Bezos) but we haven't heard of anyone cheating death (yet). 
As grim (or beautifully egalitarian) as it sounds, it leads to the main point of this article – you're going to attend a funeral at some point in your life. This isn't the time for extravagant suits or blazers. Instead, men's funeral attire calls for a somber approach and follows a somewhat specific set of rules.
What to wear to a funeral for men is the first question we'll answer. Beyond the funeral suit, we'll also cover some questions surrounding etiquette you'll need to be aware of. In this guide, we cover everything from what to expect, to how to offer condolences, and whether to bring flowers.
---
*Editor's Note:
This article refers to the primary traditions of funerals in the United States, where the majority of our readers reside. But traditions vary. Do you follow different customs we didn't cover here? Add to the article by leaving us a comment below.
---
What to Wear to a Funeral For Men
Dressing for a funeral has only a few simple rules for you to follow. We'll go over them in detail below.
The Funeral Suit
Start, and end, with a black suit. Lots of guys already love wearing black suits and we often find ourselves explaining how there are almost always better options than black when it comes to dressing your best.
Well, when it comes to men's funeral attire, a black suit is a smart choice and says "I've checked all other agenda at the door and am just here to pay my respects".
---
Completing Your Funeral Attire
Once you have your black suit in hand, you'll need to round out the rest of your outfit. Your dress shirt should be solid white, the most formal of shirt colors. Next, you'll be keeping it tasteful with, a solid black, gray or dark navy tie.  Round things out with a plain white pocket square. In this context, your pocket square is meant to display somber sophistication. So, while most times we'd say 'bring some flair' with a bright color or a paisley patterned square, this isn't one of those times. 
Save the cufflinks and tie bars for a more celebratory occasion. Lastly, for men's funeral attire, black socks and black shoes are a must. See? Like we said, keep it simple. Black suit, white shirt, muted colors in your accessories. Simple.
---
---
---
---
---
What to Wear to a Funeral Without a Black Suit
Don't have a black suit? Do not, we repeat DO NOT try something creative like wearing a black tuxedo to a funeral. A tuxedo denotes a festive vibe, and although some people will say 'funerals are a celebration', it's not that kind of celebration. Instead, go with a dark suit like a navy blue or charcoal gray if you don't have a black suit and finish it off with solemn accessories as we described above in shades of gray or dark blue.
---
General Funeral Etiquette For Men
Now that we covered what to wear to a funeral, you may still be wondering about how you should act at a funeral. Here are some of the questions that come up most often.
What to Say at a Funeral
This isn't to say you're going to be giving any speeches, but at a funeral, the memorial services will often end with a walk through the procession and a brief expression of condolences to the immediate family of the deceased. This is where traditional phrases like "my condolences" might sound a little wooden coming out of your mouth. While you're attending a funeral to be respectful, you don't have to suddenly become a Shakespearean actor and start using words that are not part of your normal vocabulary. Instead, take a more natural approach.
What's natural? That depends, but an easy way to figure out what to say to the loved ones of the deceased is to break things down by your greeting, are you giving hugs or handshakes?
When You're Greeting With Hugs
If you are greeting the loved ones of the deceased with hugs, you may be one of the loved ones, a family member, or a close friend. If you did not answer 'yes' to any of these, a hug may be too much. However, if you are close enough with the family or friends to hug, then you really don't have to say much — a hug conveys more than words can.  
If you do want to say something and find yourself at a loss for words, focus on empathy. A simple "I'll miss him/her so much" shows that you are in the same boat as the other mourners. The key is to try to name the feeling, rather than fix the situation (you can't) or advise people on how to grieve. The funeral is probably not the time or place to play grief counselor, and you're likely not qualified.
When You're Greeting With Handshakes
If you're on a handshake level with the loved ones, focus more on giving context at the funeral. For example, the last thing your high school basketball coach's widow needs to worry about at his funeral is remembering all the faces and names of every player he ever coached. Something simple like "I'm sorry for your loss, I played for Coach Thompson," succinctly lets her know why you're there, and that's all that needs to be said. If you want to go slightly farther, a short follow-up highlighting your connection to the deceased is appropriate, "He taught me a lot about leadership and I still use those lessons every day in my work." The key, again, is to be succinct and genuine.
---
Should You Bring Flowers to a Funeral?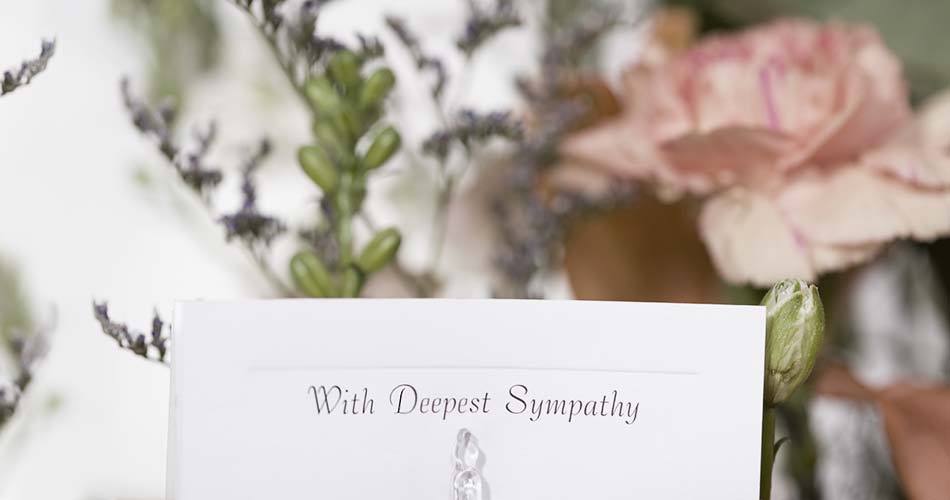 Bringing flowers to a funeral is not appropriate. 
Sending flowers ahead of time is appropriate. It's also a thoughtful way of expressing your sympathy. Standing wreaths are a good choice and can be purchased ahead of time and shipped to arrive at the funeral home the day before the services. Be sensitive to the family's traditions, however. For example, sending flowers after the death of someone of the Orthodox Jewish faith would be considered inappropriate.
Check the memorial service notice that you received or the obituary that appears in the local newspaper (or on the local newspaper's website) for guidelines. You'll get guidance on whether to send flowers or some families will request that, in lieu of flowers, a donation be made in the name of the deceased to a charity of the family's selection. In those situations, it's okay to make a donation and send flowers anyways if you'd like.
---
Where to Sit at a Funeral
The rules here are pretty straightforward, if you're family, you sit in the very front. Close friends sit just behind the family. Acquaintances and co-workers fill in behind.
Should You Sign the Guestbook?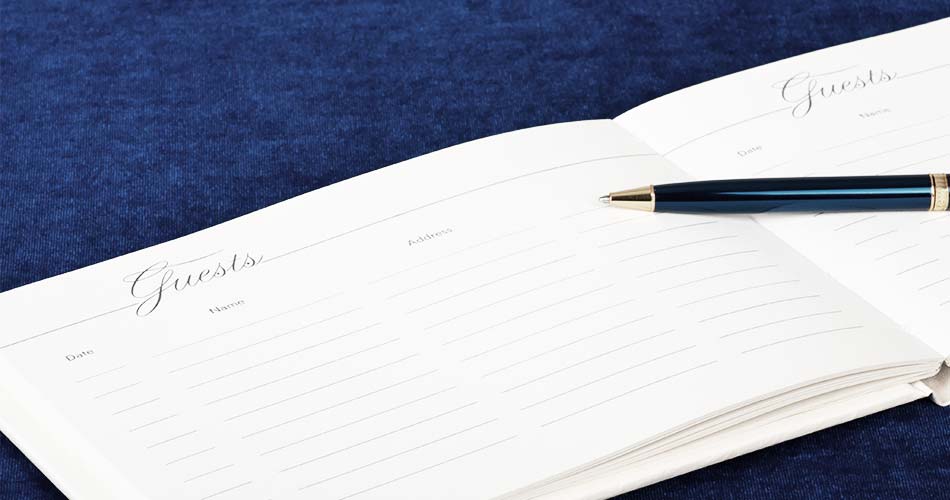 Yes, the guestbook is a way for the family of the deceased to note who attended the funeral, so don't be bashful about signing. For the unaware, most funerals have guest books at the entrance where you're meant to simply sign your name. If you're not sure the close family members will recognize your name, add some context by writing down how you know the deceased by adding words like "coworker" or in our basketball coach example from above "former player."
It's important to note, however, that the guestbook is not the place to offer condolences. If you'd like to send a note along, do that separately. The guestbook should be just that, a record of the guests.
The Most Important Thing About Funerals
Woody Allen, for all his faults, famously quipped that "showing up is 80 percent of life." That applies to funerals too. What you wear, how you act, these things show respect, but showing up to pay your respects and show sympathy for the grieving is the important thing. 
This is a tricky subject, so if you have any questions about what to wear to a funeral or even general etiquette, drop a comment below and we'll get back to you ASAP!
---
---
Like What You See? There's More.
We'll send you style advice and intel for the modern man.
---