The Chill Pill For Summer Suits
Published on May 13, 2016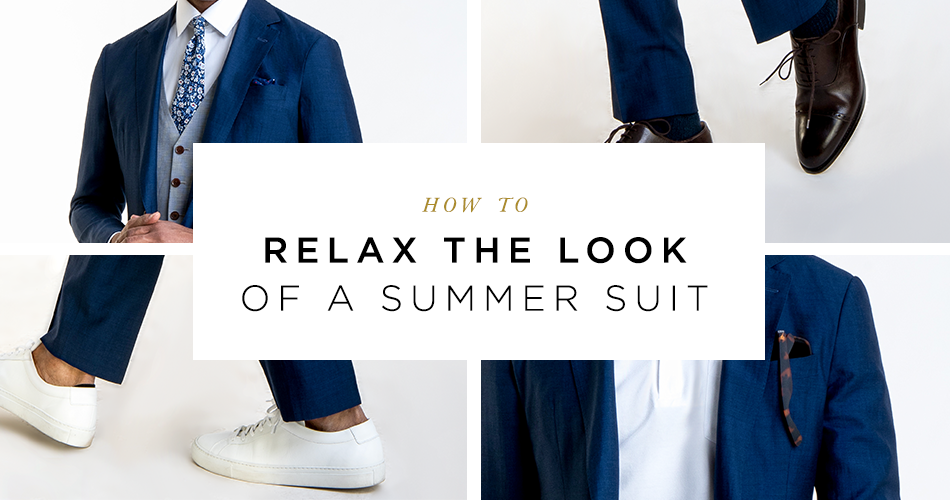 The weather breaks. Summer arrives. Dress codes relax. This is the natural order of things. And so it's natural for you to think that a summer business casual dress code means you should store your suits. After all, doesn't wearing a suit suit signal that you're dressing up? Not necessarily.
The right summer suit can make you look presentable, yet relaxed at the same time. Take a linen blend suit, the kind of suit you put on when you want to kill it at a summer wedding. With a few tweaks, you've got the perfectly chilled out look that's ten times more stylish than Phil from accounting in his khakis.
So what does it take to give your suit that relaxed vibe? Wear it with some warm weather casual classics. We show you how to pull off our favorite summer looks with the new Marine Blue Linen Blend Custom Suit.
---
Summer Suit + Polo Shirt
The polo shirt sits somewhere between the casual T-shirt and the collared dress shirt. That means they're really easy to wear with just about anything, like a solid summer suit.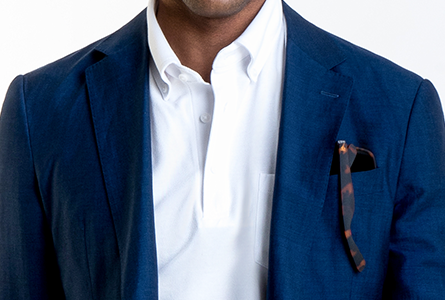 Go for a bit of contrast. A dark blue suit and navy blue polo, for example, will start to look like a onesie. White polo shirts work well with any solid suit.
If you'd rather go with a color, keep the combination classic, like light blue with brown or gray with dark blue.
Marine Blue Linen Blend Custom Suit by Black Lapel
Dry Pique Short Sleeve Polo Shirt by Uniqlo
---
Summer Suit + Sneakers
The sneakers with suits look has been a summer style staple for years and it's one of the easiest moves to pull off. It's also one of the easiest moves to screw up. That's because not all sneakers are up to the task.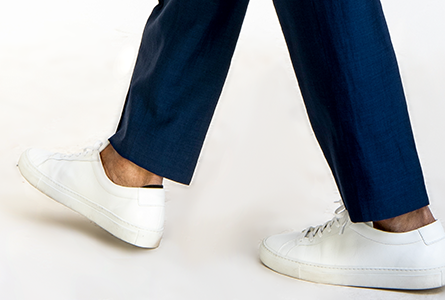 Those gym shoes with the big logo on the side and intricate design that make them look more like robot feet than shoes, are not the way to go. Instead, use the less is more approach and pair some white or black sneakers with little or no detailing on them with a solid suit for a classy casual suit look.
Another degree of difficulty up is the colored sneaker. If you do opt for a color, follow the same rule as with the polo and stick with classic combinations like brown sneakers with a blue suit or dark blue sneakers with a gray suit.
Marine Blue Linen Blend Custom Suit by Black Lapel
Low-Top Trainers by Common Projects
---
Summer Suit + Chambray Shirt
Chambray, a type of cotton fabric, can be coarse, like it's rustic relative, denim. But not all chambray is rough around the edges. Some chambray shirts are refined enough to be worn with a suit, like this dressy version.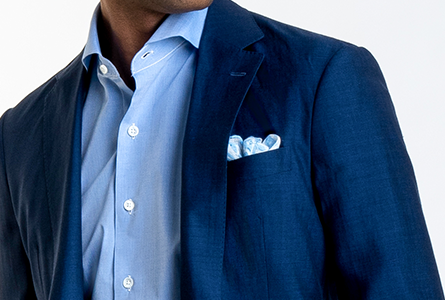 A chambray shirt can be worn with a suit and tie for a truly high-low combination of dressy and casual, but in this case we opted to pair it with just the suit for an open-collared look that's perfect for the dog days of summer.
Since chambray is lightweight, it's a great summer fabric for men. It's got the airiness and icy blue tone you'll want to stay cool all summer long.

Marine Blue Linen Blend Custom Suit by Black Lapel
Blue Solid Chambray Custom Shir by Black Lapel
---
Summer Suit + Loafers (Socks Optional)
The sockless loafers with a suit look has been a summer style staple for decades, and with good reason. It combines the uptown look of your best dress shoes with the downtown edginess of going sockless.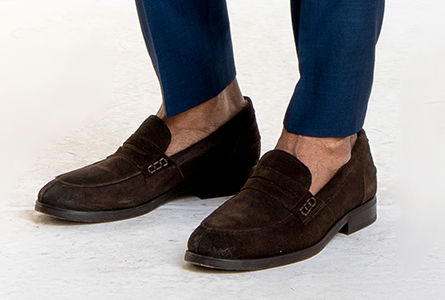 This look is one of the easiest to pull off for those who want to add a little punch to their look but aren't sure how. Why? Less matching. Getting rid of your socks means one less item to coordinate with your outfit. And since most guys really only have one pair of loafers, chances are you won't be sweating over what color to wear.
Socks, in this look, are optional. That means you can choose to wear them. Just be sure to follow the basic rules of sock matching and you'll be all set.
Marine Blue Linen Blend Custom Suit by Black Lapel
Suede Zunchi Loafers by Aldo
---
The Most Essential Element of Style
We hope we've given you some inspiration and ideas for chilling out your summer suit style. None of the above style moves require much to master. But all of the above require one key thing to pull off and that's confidence. As with any outfit, wear these looks with confidence and you will triumph
this summer.
---
Like What You See? There's More.
We'll send you style advice and intel for the modern man.
---