How Long Should My Suit Jacket Sleeves Be? Ultimate Suit Sleeve Length Guide
Published on April 12, 2019
In this post, you'll learn everything there is to know about your suit sleeve length.
With our expertise in the anatomy of a suit jacket, be assured that you'll learn all you have to know about the right suit jacket length for you after reading through this post.
Let's start.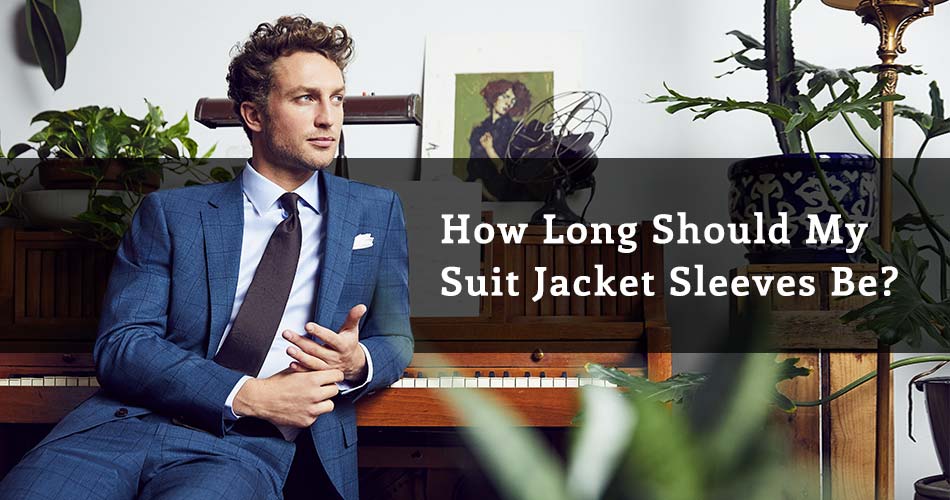 Your suit jacket/blazer sleeve should end right above the top of your wrist bone (or the hinge of your wrist). That said, for your suit jacket to appear as if it fits correctly, your dress shirt must also be the correct length. A properly fitted shirt sleeve should end at the base of your hand. Once these two are correctly fitted, you'll notice that some shirt sleeve cuff will naturally show. 
How Long Should My Shirt Sleeves Be?
The 'just right' measurement of shirt sleeves depends on the person wearing it. What is 'just right' for one man may be too long or too short for another. 
Your shirt sleeves should come all the way down to your wrist bone or the base of your pinky fingers. This means that a half-inch of your shirt cuff should show beyond the jacket cuff when you're wearing a jacket. 
How Much Shirt Sleeve Should Show From My Suit?
The general rule of thumb is that you want to show 1/4 inch to 1/2 inch of shirt cuff, so feel free to adjust your garments to achieve your desired look.
Why Do Your Suit Sleeves Matter So Much?
Showing no sleeve may have the visual effect of making your jacket sleeves look too long on you, while showing too much cuff may have the visual impact that your jacket sleeves are comically too short on you.
Both will betray the powerful effect of the superb fit.
A proper relationship between jacket sleeve length and shirt sleeve length suggests a man in control of his appearance and who knows that an excellent aesthetic consists of these "minor" details. So while sartorial matters such as these may seem insignificant, the perfection of these details will immediately enhance your image. See below for visual examples:
Our Guide To Mastering Your Suit Jacket Sleeve Length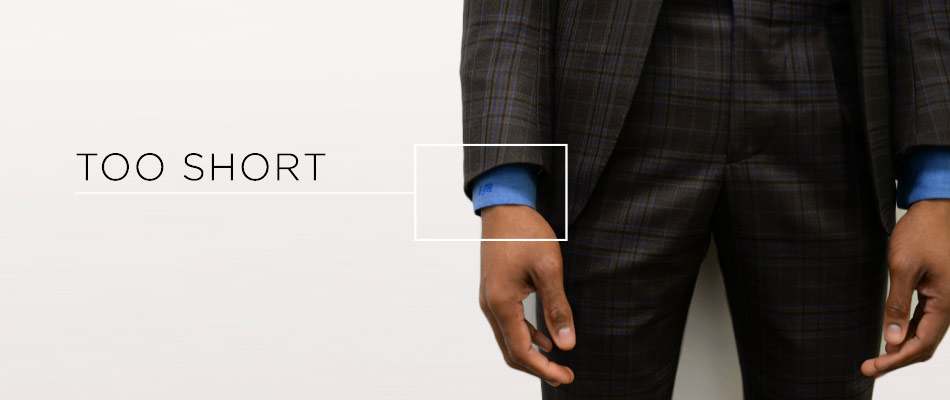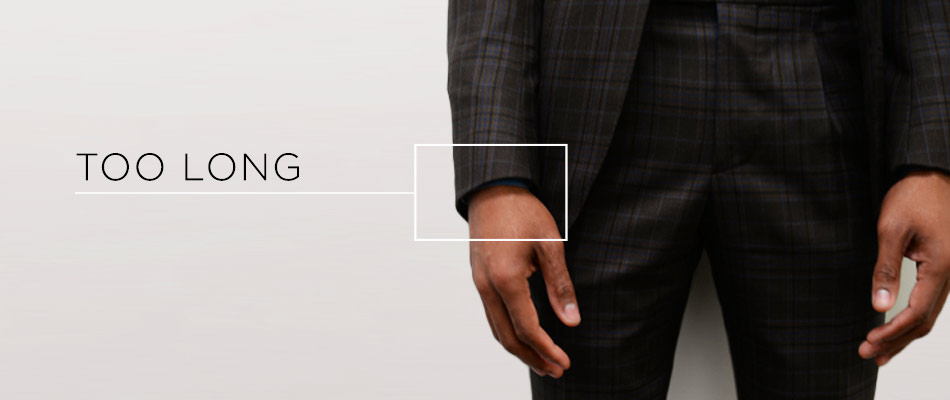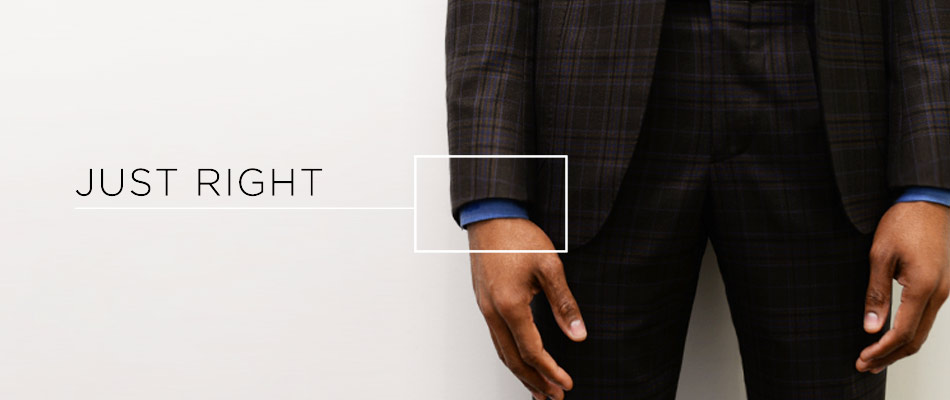 What Can I Do If My Suit Jacket Isn't 'Just Right'?
If your suit jacket sleeve length isn't 'just right,' the best way to get it right is to visit your tailor. They can alter your sleeves to the correct length. However, remember that suit jacket sleeves can only be shortened and not lengthened. Only see your tailor if you're concerned your sleeves are longer or bigger than you desire. Otherwise, you might need to have a custom suit made for you.
A Note About Suit Sleeves And Watches
Regardless of how your suit sleeves look with your dress shirt, there is still the question of how to bring a watch into the mix, especially if you rock wrist bling that is larger than life. If you wear a watch, especially a larger-faced watch,  make sure you leave enough space under your cuff to accommodate the typical watch you would wear with that shirt. A shirt cuff should be able to go over and cover some of your watch when your arms are relaxed at your sides.
Frequently Asked Questions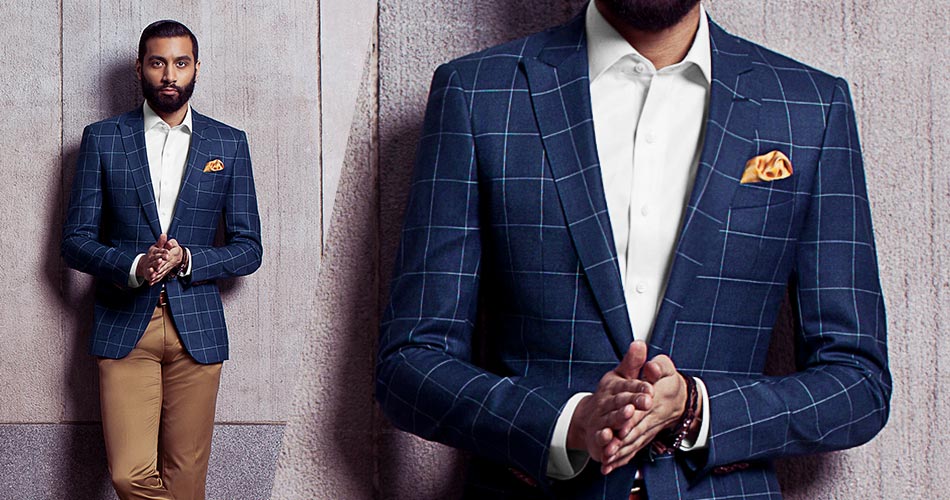 If you're still unsure about the proper length of your sleeves or the perfect fit for you, we're more than ready to answer your questions.
Can a tailor adjust my jacket sleeve length?
Tailors can adjust all sorts of things, from your suit pants to your suit jacket size. Your tailor can adjust the sleeve length of your suit jacket, and you can ask for your desired length to achieve the perfect fit. You only need to measure your arm length and other necessary parts. However, always remember that you need to keep your suit alteration costs consideration in mind. Adjusting to your proper sleeve length may not be cheap. 
Can I wear a half sleeve shirt under my jacket or suit?
Yes, wearing a half sleeve shirt under your jacket or suit is acceptable. It's all in how you pair it with your dress pants and bring the whole outfit together.
What is an average sleeve length?
The average sleeve length for men is around 32 to 33 inches. Of course, the body length plays a significant role, but this is the average. 
How do I know my sleeve size?
To know your sleeve size, whether for a coat sleeve or shirt sleeve, measure from your shoulder to a little past your wrist bone. When measuring, slightly bend your elbow to allow for more flexibility on your part. 
More Interesting Dress Guide To Explore
Looking for more? Here are a few other guides for you to explore to help you dress your best. 
Conclusion
We hope this guide on the suit sleeve length helps you figure out the perfect fit for you. Knowing the proper length will help you dress appropriately and avoid looking unpresentable. This knowledge is all you need to bring out the best in your style. 
---
Have more questions about suit jacket sleeve length or suit styling? Leave a comment below or send us your questions at concierge@blacklapel.com!
---
Like What You See? There's More.
We'll send you style advice and intel for the modern man.
---