How to Dress Down Your Suit Jacket
Published on April 4, 2013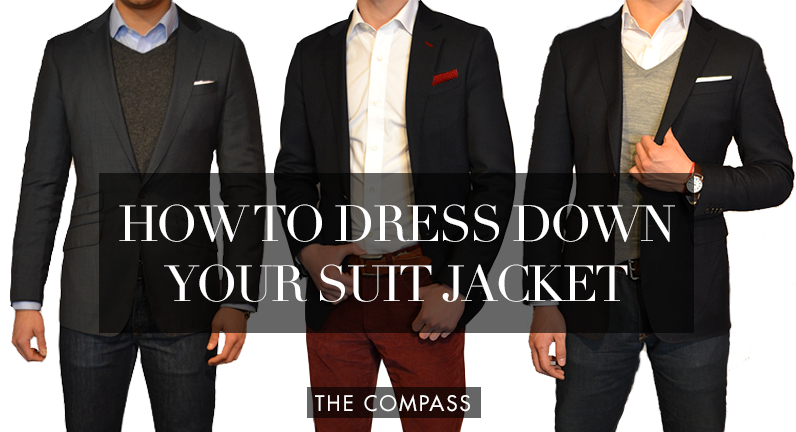 We hear it all the time. You want to give those custom Black Lapel threads some more wear but your office is a bit too casual to handle all the sartorial heat. Now of course, you wouldn't want to be the only one in the office who missed the dress code memo and look like an investment banker at an outdoor rave. What's a suit lover to do?
In this post, we'll give you a few very basic ways of wearing that suit jacket casually so you can put it on more often. Here's your opportunity to get the most utility out of that beautiful piece of custom tailoring. From a casual work environment to a warm spring weekend to just a simple fun night out, you might be fashionably late, but at least you'll be looking sharp as hell. So, let's get to it.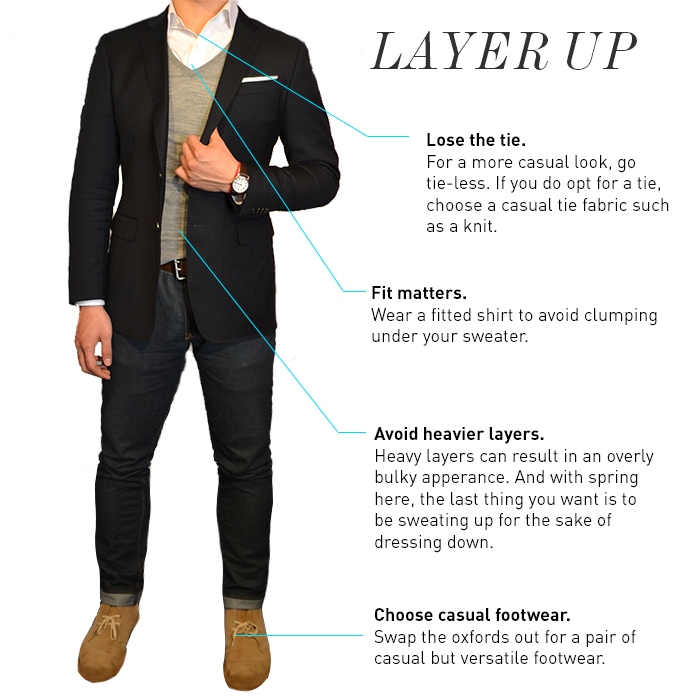 Tip #1: Layer Up 
If you're looking for a way to rock that suit jacket casually with a little more dimensional style, layering it up with a thinner spring-appropriate sweater may be your answer. Throw on that suit jacket with a cardigan, crew or v-neck sweater and pair it with a your navy suit jacket. Throw on some classic desert boots and you've got a smart-looking ensemble ready for the office, happy hour with the boys or that first date. Keep everything as fitted as possible and avoid anything chunky or bulky as it will only result in a sloppy look. For a fresh, modern look, always think streamlined.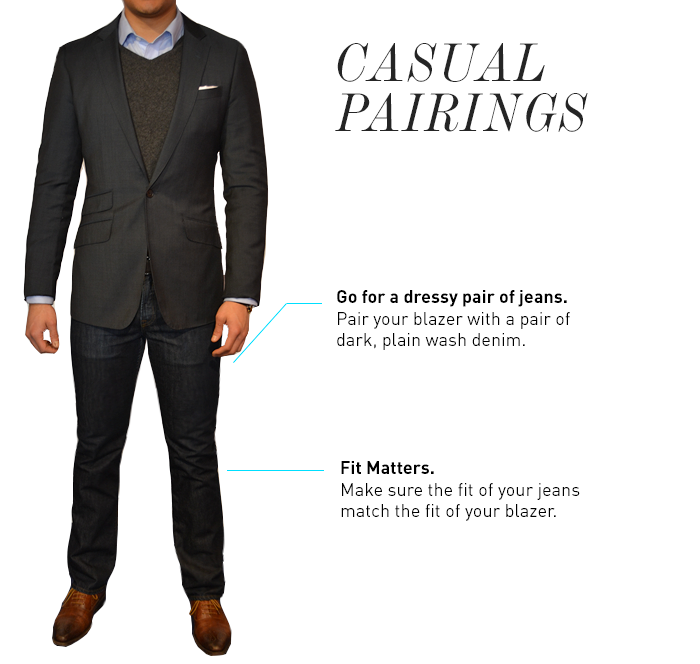 Tip #2: The Denim Swap
What's the quickest way to pull together a fresh, casual getup? Shelve your perfectly fitting custom suit pants for some nice denim of similar fit. Pairing denim with a blazer is one of the easiest ways to bring this classic casual staple into your suit-and-tie rotation.  Just be cognizant of the three factors when pulling off the perfect denim-blazer look— the color, wash and fit of the denim. Stick to darker denim with a simple wash (e.g. raw denim) as it will look dressier than one that's lighter with decorative washes and/or "distress". Fit matters. Wearing baggy jeans with a slim-fit suit jacket is like putting whipped cream on a perfectly cooked rib eye.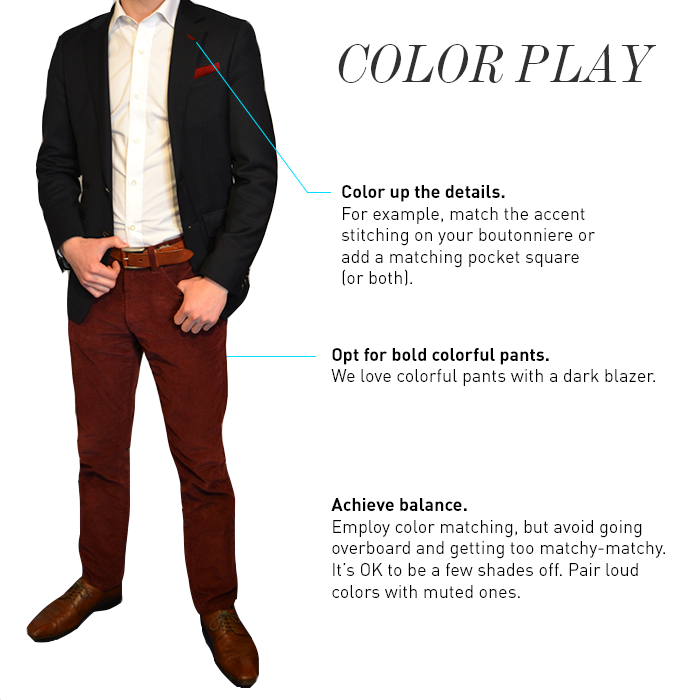 Tip #3: Play with Color 
Spring is here. Get a head start and add some brighter, bolder colors to a style landscape still waking up from the winter. Adding bold colors to your outfit is another way you can turn an otherwise serious suit-and-tie look into a much lighter get-up. Go for the big plays but not a Hail Mary, so don't wear loud colors from head to toe.  Think one statement piece with a few, small details. For example, try pairing a pair of rust red chinos with your solid navy suit jacket…and add a matching pocket square. Small details like the color of the accent stitching on your boutonniere will round out the outfit.
As you can see, dressing "down" your suit jacket can be just as much fun as suiting up to the nines. So bring your A-game and have fun with it!
Got more ideas for dressing down a suit? Share with us in the comments below! 
---
Like What You See? There's More.
We'll send you style advice and intel for the modern man.
---