The Flawless Fit Series: What to Look for in Suits for Short Men
Published on April 17, 2015
Many years ago a 5'8" black man in a suit told Americans about having a dream for a better country. He dreamed of a level playing field for all people. Millions who had suffered from discrimination saw hope for a new day when one's prospects were not limited by one's physical characteristics. The words he spoke that day still echo in the hearts and minds of many who shared his dream.
We're talking, of course, about the rapper Skee-Lo. (What…you thought we were talking about Martin Luther King Jr.? Sorry but check the facts, MLK was only 5'7".) At the beginning of the video for his 1995 hit single "I Wish" Skee-Lo appeared sitting on a park bench in a light gray suit ala Forrest Gump. For those who don't know the song, it began with the following words: "Hello. I wish I was a little bit taller. I wish I was a baller. I wish I had a girl, who looked good, I would call her."
If you share Skee-Lo's wish and are over the age of 19, you're probably done growing so there's nothing we can do. However, there is something you can do to look like a baller in a suit (and even use a suit to look taller). And while we can't guarantee anything, looking fresh in a suit will certainly improve your chances of getting the number of a girl who looks good whom you would then, presumably, call.
The Rule Breaker's Guide to Suits for Short Men
When you're on the short side (under the national average men's height of 5'9") you get a lot of rules thrown at you. Always wear this, never wear that, etc. But are the rules really as iron-clad as they sound? We talked with Brock McGoff of The Modest Man, a men's style blog devoted to men of modest height, to get the lowdown on clothes for short men.
Clothes for Short Men Rule #1
Never wear double-breasted jackets.
There are plenty of people out there claiming that double-breasted jackets are not appropriate on suits for short men. Brock says banning double-breasted jackets is selling yourself short. "If you want to expand your collection to include a DB suit or sports jacket, your height shouldn't stop you," says Brock. As with any suit, the fit is hugely important. Brock suggests that shorter guys pay special attention to the jacket length and err on the short side. And, just as shorter men should avoid the high-buttoning, 3-button, single-breasted jacket, Brock suggests that shorter men go with 4 by 2 button configuration on a double-breasted jacket. This will create a longer unbroken space in the torso and elongate your overall appearance.
---
---
Clothes for Short Men Rule #2
Pinstripes are the best way to look taller in a suit.
It is true, the vertical stripes in a pinstripe suit can visually elongate your frame but pinstripes are not the only good option. "It's not about which patterns are best," says Brock. "Short men can wear any patterns they like. It's about the scale of the pattern."
Instead of instinctively reaching for the pinstripes, Brock suggests shorter guys look for small scale patterns, like the Madison Blue Micro Check Custom Suit. "Keep the scale of the pattern in proportion with your body. If you're a small guy, large scale patterns will make you look smaller even it they're vertical stripes."
---
---
Clothes for Short Men Rule #3
Never wear non-matching pants and jackets.
This rule comes from the belief that wearing non-matching pants and jackets, like the Black Lapel Unsuits, cuts the wearer in half. "What this rule is really getting at is the fact that shorter men can dress taller by wearing monochromatic or uniform color schemes," says Brock. The trick is to stay within the same color family. "Shorter gents can definitely pull off separates. I would recommend sticking with analogous color schemes." The Gray Windowpane Shadow Check Custom Unsuit pictured here shows how, varying between pattern and solid can make for a jacket and pants combination that is monochromatic but still has the right amount of contrast.
---
---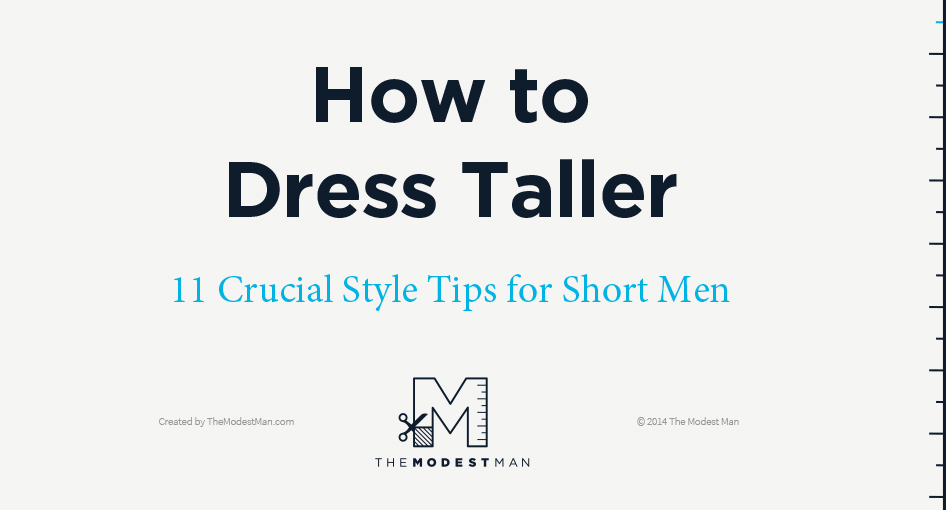 Little Big Men
To prove that shorter guys can have great style, we collected some photos of some of our favorite stylish celebs who are under the average American man's height and made a Pinterest board for inspiration. Along with the photos of these dapper gents we've listed their heights. Some you've probably guessed will be there, others might come as a surprise, but all of the men you'll see there know how to wear clothes for short men with style.
The Long and the Short of It
Armed with these tips, you may not be able to get a rabbit in a hat with a bat and a six four Impala (though we're not sure why Skee-Lo wanted all of that anyway), but you will be able to look great in a suit.
Got more questions about how to pull it off? Drop a comment below and we'll help you climb the style ladder.
---
Like What You See? There's More.
We'll send you style advice and intel for the modern man.
---