Create Blue Suit Combinations Like A Professional Stylist
Published on July 22, 2016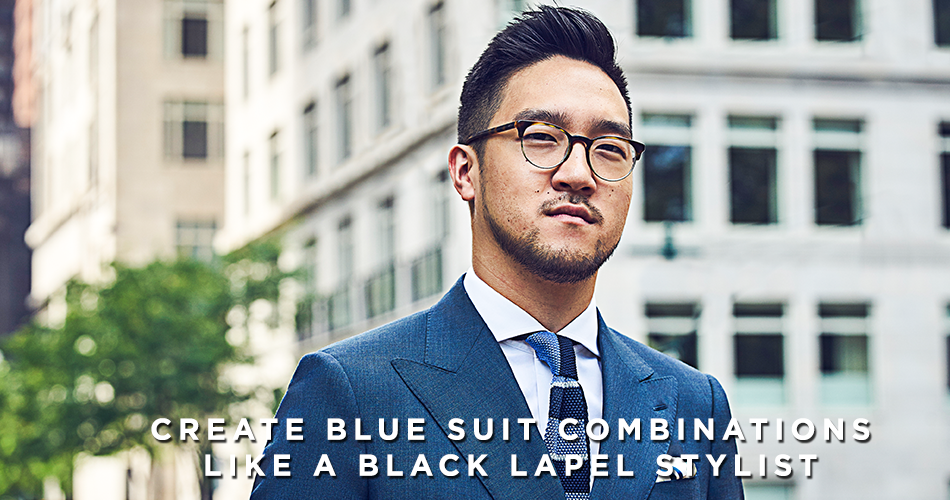 Our Blue Suit Combinations
Chris Chun checks his watch. He's got a client coming in soon. Being a Black Lapel stylist means his schedule stays booked. But the stylist title DOESN'T mean he's decked out in luxury items from head-to-toe. Case in point, the watch he just checked is a Timex, not a Rolex, and it's one of his favorites. More on that later. Right now, we're sitting down to talk style with him.
He's kitted out, as usual, when we sit down to talk, sure to impress his next client. He has styled hundreds of guys in suits for everything from job interviews to weddings. Yet, when it comes to dressing himself, he relies on a surprisingly small set of mostly blue suit combinations that he riffs on every time he opens
his closet.
"A lot of people think I have a huge closet because I'm a stylist. My wardrobe isn't that big, but it's full of colors that complement each other. So, I can make a lot of outfits out of just a few pieces."
Like a good cook mastering a simple dish first, a good stylist knows how to do a lot with a little. So if you've got a blue suit or two in your closet (and you really should) but are wondering how to put a little pep in your sartorial step, listen up. We get Chris to drop some knowledge on the methods behind his simple style and how to refresh the classics.
"Build around blue," he tells us. "I didn't just center my wardrobe around blue because I like the color. I did it, and I usually urge clients to do it, because blue is versatile and there are so many blue suit combinations." Take this advice to heart, guys. If you're stuck in a rut of not knowing what to wear everyday it may be that you need a little more good old, utilitarian blue in your life. If you've got the parts and need the inspiration, here's how Chris recommends putting together some new blue suit combinations.
---
Tips On Creating Blue Suit Combinations
Tip #1: More Interest, Fewer Colors
Too many guys think they've got to combine a ton of colors to be stylish and end up looking like a bowl of Skittles. Sticking with one color family, a navy blue suit, a solid blue shirt and a blue patterned tie makes wearing patterns easy. Pattern make things interesting without adding a rainbow of colors.
Navy Blue Bonus Tip
In the above look Chris showed how to make blue the star of the show, but when it comes to putting a fresh spin on your navy suit, you need to be more than a one-trick pony. Chris suggests adding contrast. "Something as simple as wearing a white shirt and your navy suit can be effective because it adds contrast." A white shirt also gives you a blank canvas for venturing out out and trying new things with bolder ties.
"Don't wear a bold tie and a bold shirt," Chris reminds us. Baby steps. Only add one strong item to your look at a time, like patterned socks or a statement tie like a paisley or floral.
Once you've come up with some more interesting blue suit combinations for your navy suit, it's time to move on to a new blue.
The Slightly-Less-Common Blue Suit
Tip #2: Bring Your A-Game.
A is for accessories. When you're wearing a less common color, like this Baltic Blue suit, in a more fashion forward way, like this double-breasted version, ground the whole look with sharp simple accessories. Like this pocket square, tie and watch band (Chris's version of a Rolex) pictured here.
"Navy may be the most versatile, but it is not the only shade of blue a man should have in his wardrobe." Chris suggests having an alternative shade of blue suit in your arsenal. His choice: Black Lapel's Baltic Blue.
"Being a stylist, I'm a little more fashion-forward than the average guy, so I made this one double-breasted. That's a bit aggressive for some guys, but you can stand out more subtly by adding a theme like the striped accessories I've got on here."
About those accessories, we had to ask what's with the watch bands?
"I love this watch because it's got an interchangeable, NATO strap. It gives me a quick an easy way to change up my look and keep things fresh."
You can pair a suit like this with simple white and blue accessories for a professional look, or take things a little further by adding a theme, like the striped accessories Chris worked into this look. The choice is yours, but the attention to detail will pay off whether you keep it simple or amp things up.
Now that we've shown you how a Black Lapel Stylist adds a touch of personal style to his staple suits, how about you?
---
Like What You See? There's More.
We'll send you style advice and intel for the modern man.
---