The Ultimate Wedding Tux and Suit Guide
Published on August 14, 2015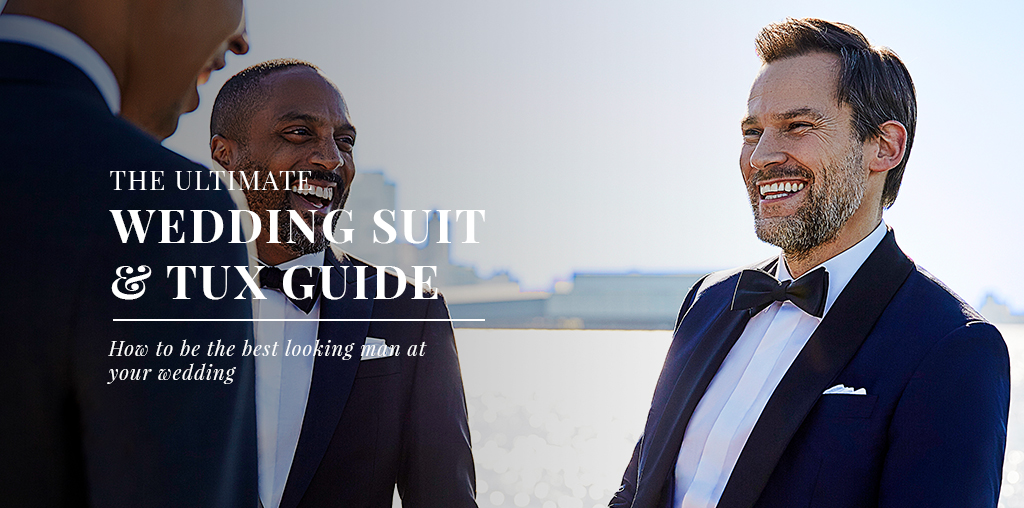 People talk about your wedding day as "her day" and, it's true, a wedding day holds a special meaning for a woman. But the groom is not just a casual observer or a passive member of a ceremony. It's his day too. And if you're like most guys, you want to look your best on this important day. After all, who wants to have the person he's about to marry walking down the aisle and spotting a better looking option in the third row? Do you really want to be outdone by your cousin who came dressed to the nines to help you celebrate your nuptials? If your answer is no, we've got two words for you: wedding tuxedo.
---
---
Lots of guys get married in suits. There's nothing wrong with that. In fact, we've espoused the idea of a wedding suit in this very publication in the past. But if you're looking for a foolproof way to be the best dressed man at your own wedding, nothing beats the wedding tuxedo. Not only does a wedding tux give you an appropriate level of formality (you will be standing next to someone in a wedding gown after all), but the wedding tux is also one of the easiest outfits to look good in. The clean lines of a dark tuxedo with a formal white shirt and simple, stylish accessories like a black bow tie, a white pocket square and a set of cufflinks and studs, makes this a straightforward expression of masculine style that is beyond compare. There's a reason men have been donning the wedding tux since the days of the horse and buggy. Not much has changed with the tuxedo because this basic outfit is so effective at making men look good. Here are our set of rules for a wedding tux that will make any groom look great:
---
Always Bet On Black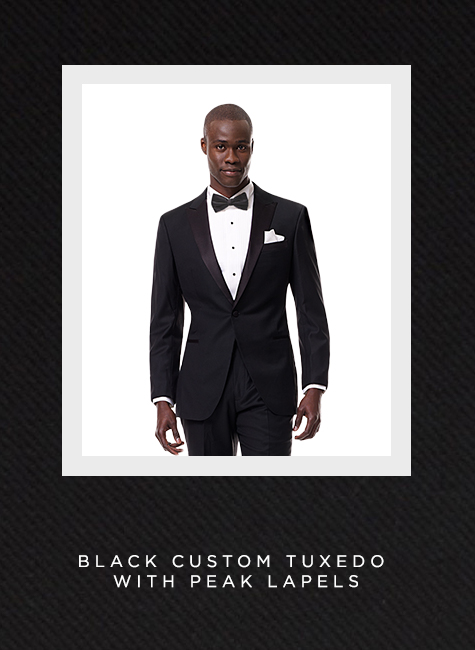 We're not big fans of the black suit for festive occasions like weddings, but a Black Custom Tuxedo with Peak Lapel is a different animal. It works for everyone because the clean lines and simplicity of the black and white presentation makes this tuxedo fool proof. Just don't go messing with a classic: get one that fits, pair it with a white shirt and (duh) black tie and you've stamped your ticket to Dappertown.
---
Head Into the Wild Blue Yonder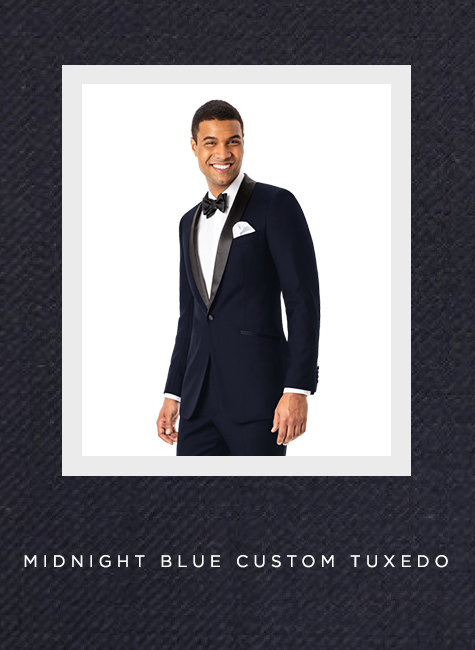 Never to be outdone by black for versatility and style, dark blue is a fine alternative to the black tuxedo. The deep dark Midnight Blue Custom Tuxedo is great for evening weddings. Even under the glare of artificial lighting (a.k.a. at night) the hint of color lends this tux a rich darkness that only midnight blue can achieve.
---
Give Yourself the Royal Treatment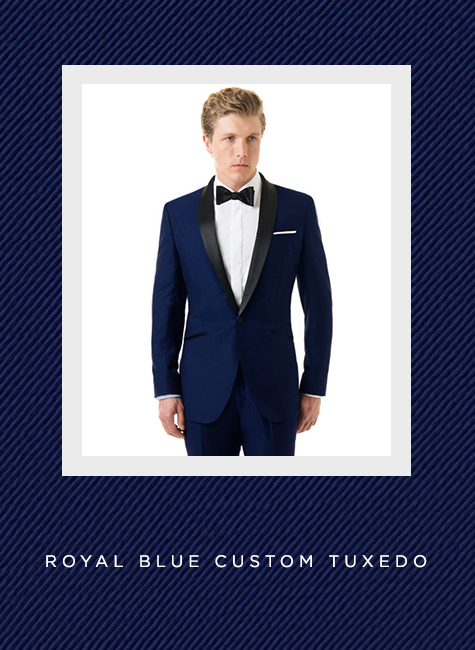 If you're not a traditionalist or just don't like the penguin palette of most tuxedos, a tuxedo in a lighter color, like this Royal Blue Custom Tuxedo, might be perfect wedding tux for you. Is it bold? Yes, but what better time to wear something bold than your wedding day. You won't upstage your bride (all eyes will be on her and her dress), but when all eyes are on her, her eyes will be on you. Dress accordingly.
---
What's Black and Blue and Fly All Over?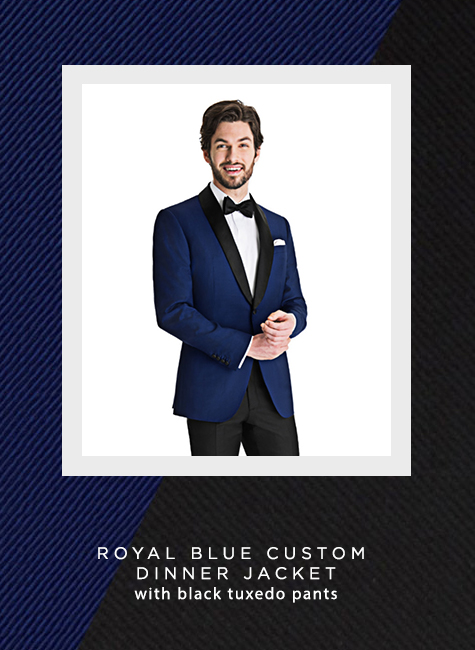 Think a full tuxedo is the only way to do black-tie? Think again, the non-matching dinner jacket and pants look is back. That's right, we said "back" because it's actually not that new of an idea. Your grandfather watched Humphrey Bogart woo Ingrid Bergman in Casablanca with a non-matching dinner jacket (and pants and thought I could totally rock that look.) back in the 40s. Suffice it to say you won't be going out on a limb if you wear this Royal Blue and Black Custom Dinner Jacket and Pants. You'll just be going out and out badass.
---
Use Your Gray Matter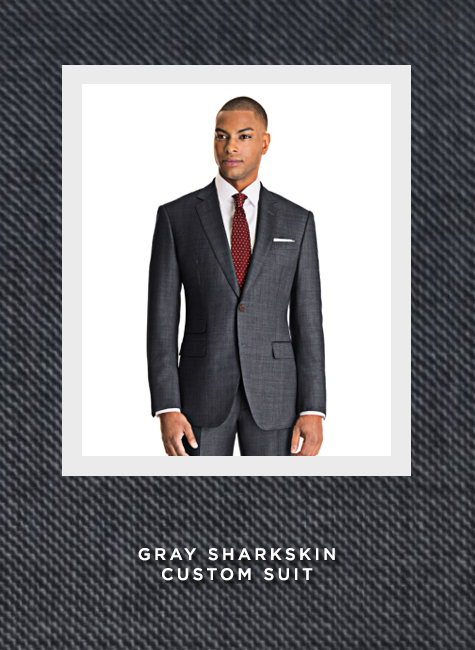 So you want to get married in a suit, huh? That's using your noodle. Going with a Gray Sharkskin Custom Suit not only ensures you'll look great, but gives you a classic addition to your wardobe for future use. This one will get you through the wedding and be waiting for you when you get back from the honeymoon and go back to your office.
---
Killing 'Em With Khaki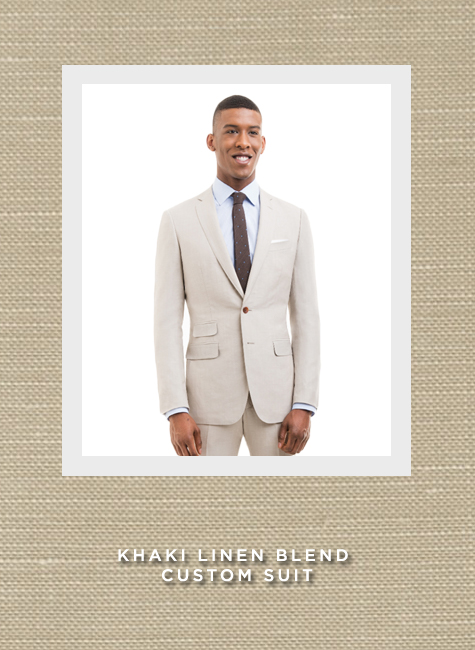 Whether it's a tropical destination wedding, a beach wedding or just your run of the mill mid-summer scorching temperature wedding, you can always go lightweight and light colored with a Khaki Linen Blend Custom Suit. While khaki may get a bad rap from guys who wear it like Jake from State Farm, a linen blend suit in a light sandy tone that fits you flawlessly is a stylish summer wedding look.
Trying to decide how to be the best looking man at your own wedding? Get custom advice from a Black Lapel stylist by emailing us at concierge@blacklapel.com. See something you like here? Share your top choice in the comments below.
---
---
---
Like What You See? There's More.
We'll send you style advice and intel for the modern man.
---