5 Reasons To Splurge On A Wedding Suit
Published on April 1, 2016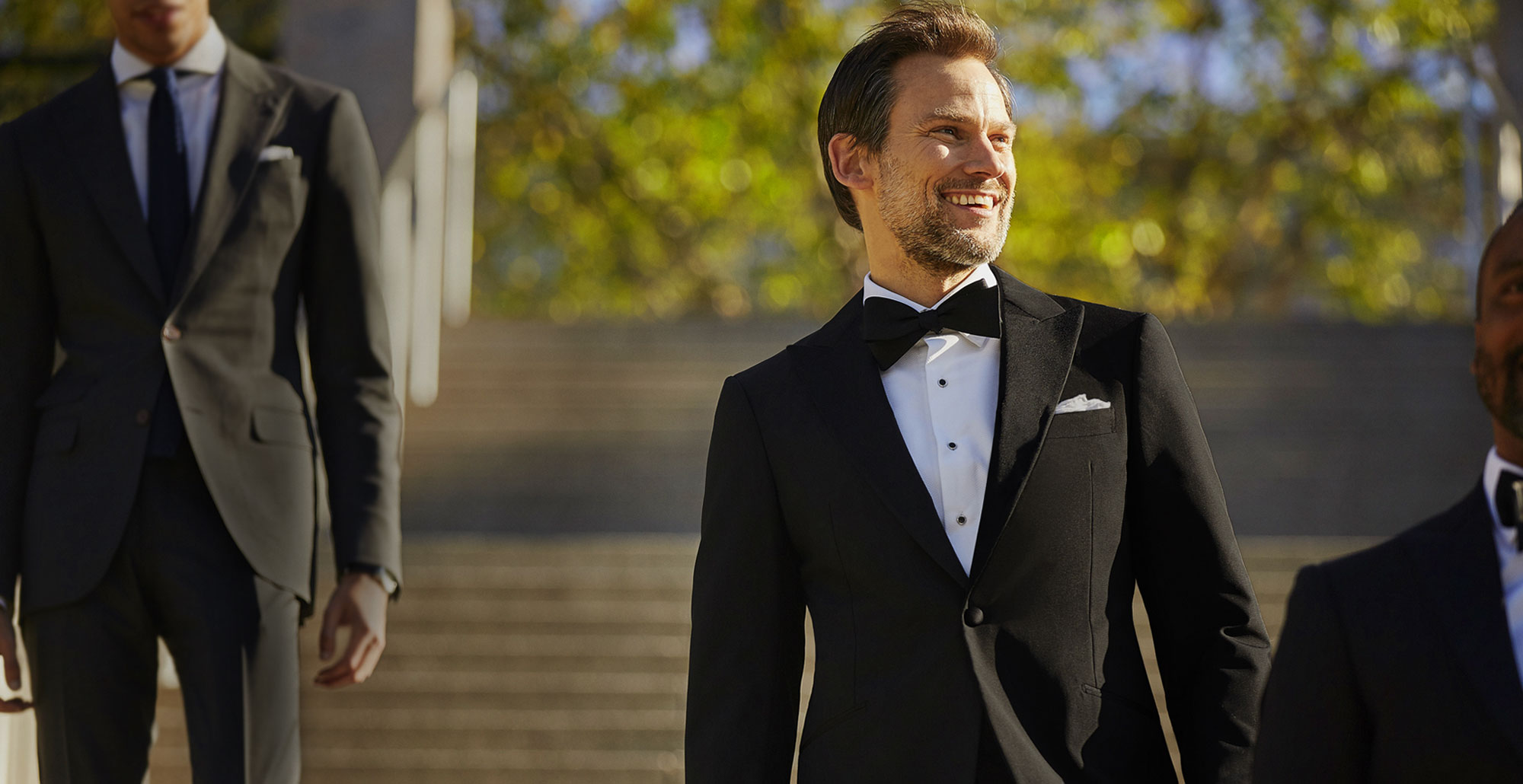 Getting married is a bold move. You're committing for life. That's like…life, dude. Good for you. Now ride that wave. Don't stop at the proposal. Keep making bold moves. Go all out on your wedding suit or tuxedo. When you're planning a wedding there are plenty of opportunities to go hog wild, mostly on frivolous expenses. Regardless of who's paying for the wedding, we suggest you keep the spending in check when it comes to the things that aren't truly important. How many chocolate fountains do your guests need? But when it comes to deciding on a wedding suit or tuxedo, we recommend that you bet big. Here's why:
1
We've said it before in these pages, but it bears repeating: You should be the best dressed man at your own wedding. The last thing you need is for her to be walking down the aisle and spot your cousin Jimmy outdoing you in an impeccably tailored suit.
---
2
Now we can hear some of you saying "I'm gonna wear a tux so I'll just rent. What's the diff?" First of all, shame on you, people stopped saying "what's the diff?" about ten years ago. Secondly, there's a HUGE difference between owning a tuxedo and renting one. In one scenario, you're wearing some clothes that another dude wore for his wedding and on the dancefloor when he got down to The Electric Slide and possibly even later when he "got down" to some Marvin Gaye on his wedding night. In the other scenario, you become the owner of a timeless piece of menswear that can be tailored to fit you flawlessly and make you look like James effin' Bond. We say opt for the latter.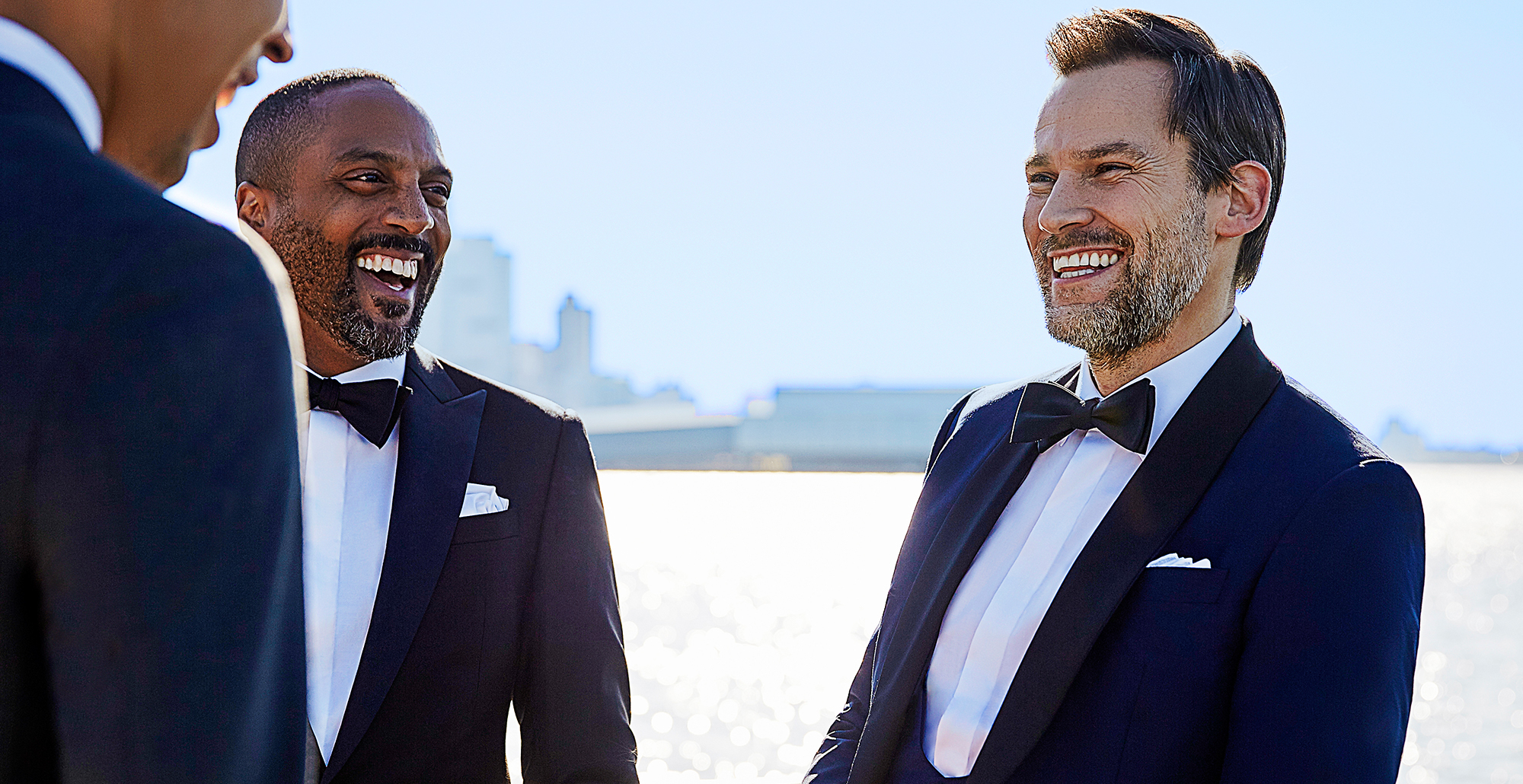 ---
3
During this wedding you'll be in 90% of the pictures, and if you're hiring a photographer who's worth their rate, they're going to give you photos with razor sharp focus and vivid colors. But cameras see things the naked eye can't— including imperfections. All the more reason to dress in the best fabric you can. With a wedding suit or tux, that means high quality fabric that drapes well and doesn't wrinkle even when you've been sitting at the head table throwing back champagne for over an hour. We like blended fabrics that combine wool with silk and mohair (like these) and Italian milled Super 150s wool suits (like these) for the job.
---
4
She's going through all the trouble to get her hair and nails done and get all dolled up in a wedding dress, the least you can do is return the favor. If that means you're going to spend a few more bucks on your tux or your wedding suit, she'll understand. After all "you're spending too much money on our wedding" is a rarely heard phrase from a bride-to-be. Plus, that dress probably isn't cheap. She knows it and you know it. Now we're not suggesting you get out the bank statements and start comparing your spending to hers (one of the leading causes of divorce is financial disagreement), suffice it to say she probably won't have much of a leg to stand on if she wanted to call you on your wedding spending. We say now's the time to ball out.
---
5
But if you do catch heat about spending a lot on a wedding suit or tuxedo, remember to bring up that it's an investment. If it's a suit, you can wear it to work or work-functions (and be the flyest dude in your department!). If it's a tux, you can wear it to other weddings. Which brings us back to reason number one. Cousin Jimmy's girlfriend caught the bouquet and it's high time you gave him a taste of his own medicine. Game, set and match.
Looking to dress to the nines for your own nuptials: check out the Savoy Line of luxury custom tuxedos, suits and shirts that'll turn your style up to eleven.
---
---
Like What You See? There's More.
We'll send you style advice and intel for the modern man.
---