How to tie a tie – The four in hand knot
Published on June 17, 2016
There are many ways to tie a tie. But the most common and simplest way to tie a tie is to make a four in hand knot.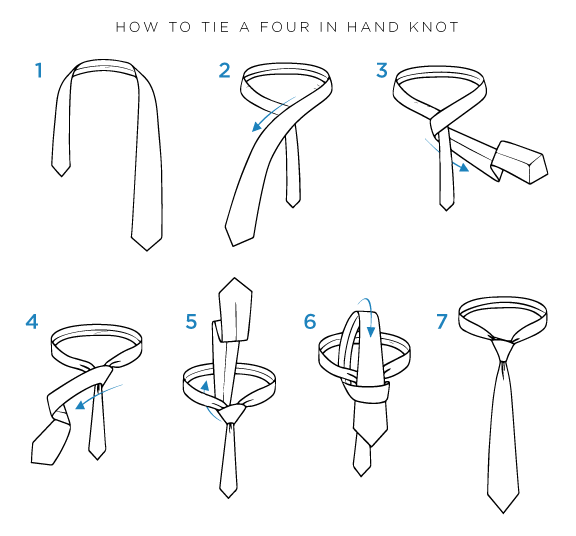 To make a four in hand knot, start with the tie around your neck with the small end down to about the midway point of the wider end. You may have to adjust this starting point depending on the length of your tie and the length of your torso. If you were searching for a tie knot, at this point you'd be ice cold, but keep going…
Flip the wider end over the small end. You're still cold, but you're getting somewhere…
Swing the wide end around the back. You're starting to thaw out now…
Hold the small end in one hand and loop the wide end over it again. You're getting warmer…
Pull the wide end up from the back and you'll see the knot coming together. Warmer…
Slip the wide end under the front of the knot to tighten. Note, you can do this well below your neck so that you can see what you're doing.  Almost there, you're burning up…
As you tighten, pinch the front of the wide end just below the knot so that a dimple forms and slide the knot up to your neck. Bingo! You just found yourself a four in hand knot.
The four in hand knot is the one most young men start with, a classic tie knot that's passed down from generation to generation. That's because the four in hand knot works for everyone, with every face shape and every collar type. Every man should know how to tie a four in hand knot complete with the trademark dimple, before moving on to more detailed or unique tie knots.
For many men, the four in hand knot is the only tie knot they know how to make. If you're one of them, we've got you covered with some other, more complex tie knots like the Eldredge Knot or the Trinity Knot or the bow tie or even a style hack like how to make a bow tie out of a neck tie. Still, if you've got another tie knot you'd like us to cover, let us know in the comments below.
---
Like What You See? There's More.
We'll send you style advice and intel for the modern man.
---