Guide to a Better Shave: Wet Shaving
Published on February 14, 2013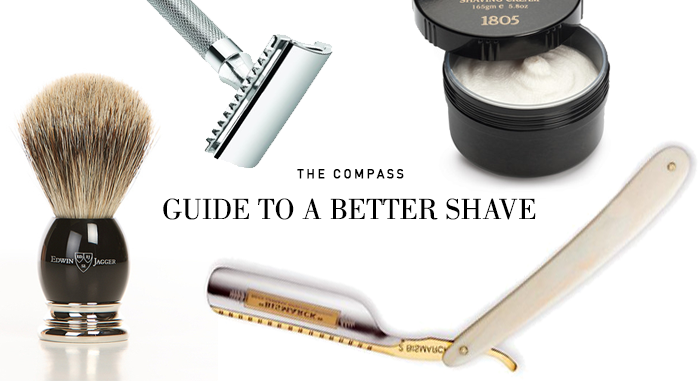 Like most guys, you probably shave 4 or 5 times a week. You do it because you need to and because the Geico caveman look hasn't been "in" for the better part of two centuries. It's routine and things done in routine are often done complacently, without much care. So why should you deviate from what works? We answer with a question. Why fly economy when you can fly first class? Both will get you from Point A to Point B. So what's the difference? Of course, this is a no-brainer. First class is A LOT better – more comfortable and a better experience.
Well unfortunately, most of us are stuck in the economy class of shaving. Symbolized by the ubiquity of cheap, disposable blades, the practice of a proper shave has become a lost art. In this article, we're going to show you that a luxurious first class shave – the wet shave – is not out of your reach. When you're done reading, a once uninspired morning routine will become an anticipated ritual of masculinity that will help you start your work day right.
What is the Traditional Wet Shave?
So what exactly is wet shaving? To put it simply, wet shaving is a shave whereby your face remains wet throughout the entire process and you use a single blade razor, a shaving brush and a glycerin-based shaving cream to execute the shave.
It takes a little longer than your normal shave, so use the time to get your mind going and set goals for the day. After all, your grandpa probably shaved this way and your grandpa was a wise man.
Why Should I Incorporate a Wet Shave into My Daily Routine?
It'll be the best and closest shave you'll ever have. In the opinion of many shave enthusiasts, the classic double-edge (DE) safety razor runs circles around a disposable. Why? In essence, a disposable uses densely packed inferior blades and relies on pushing hard against the skin to remove hairs, damaging skin along the way. A proper DE on the other hand, relies on the weight of the razor and the preciseness of a single, quality blade to cut more efficiently.
You'll save some money in the long-term. While the razor itself isn't cheap (probably the most you'll spend on a manual razor), replacing blades can cost as little as $20 a year vs. up to $100 a year for cartridges. So as far as investments go, a quality razor is a good one.
What Will I Need for a Wet Shave?
---
Razors
Razor Option A: The Double-Edge Safety Razor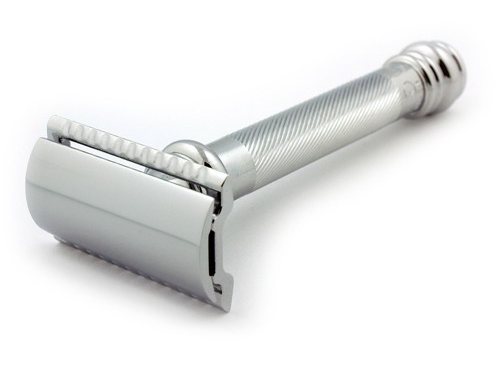 The double-edge safety razor consists of a metal handle and two metal headpieces that hold a single blade in-between. A quality, metal double-edge safety razor will not only deliver a closer shave than some battery-powered vibrating gimmick, but save you money in the long run. If you're just starting off, we strongly recommend a double-edge safety razor.
We Recommend:
Merkur Heavy Duty Safety Razor
// UPDATE: Since we published this article, a new shaving brand has emerged that focuses on men with coarse, curly hair. If that sounds like you check out The Bevel Safety Razor.//
Razor Option B: The Straight Razor
Mr. Bond's shaving tool of choice, the straight razor is used by barbershops and shaving enthusiasts alike – basically, dudes who really know how to cut whiskers. Also called open razors or cut-throat razors, these razors provide some of the closest shaves but at the cost of a higher learning curve. If you're just starting off, the double-edge safety razor is an aptly named safer bet (for your face). But not to worry, we'll risk our necks and master the straight razor shave so we can throw together a step-by-step guide for you in a future post.
Until Then, We Recommend:
Razor Option C: A Machete

We kid!
---
Shaving Brushes

Brush + face = female? Most of the time, yes. This time, no. A shaving brush is used to pick up and hydrate the shaving cream so that it forms into a thicker, richer and more emollient lather than you would get with just your fingers. A shaving brush also gently exfoliates your skin, removing dead skin and debris and raising the hairs on your face in preparation for the shave. For this reason, many shave enthusiasts claim that using the proper shaving brush is the single most important element of an effective shave. And the bonus? It feels really nice.
There are a few types of shaving brush hairs you can use. The best kinds are badger hair brushes followed by boar hair brushes. If the idea of using animal hair rubs you the wrong way, synthetic hair brushes are also available.
Within the badger brushes themselves, you'll get different grades. In general the grades are categorized as "pure" (being the lowest grade), "best," "super" and "silver tip." The "super" or "silver tip "badger brushes are going to be the softest, highest quality brushes you can find, and will have a white color instead of the usual black / brown. However, if the idea of dropping $100 on a brush isn't in your plans, a high-quality, "pure" badger brush will serve you just fine.
We Recommend:
---
Shaving Soaps / Creams & After Shave Products

There's nothing wrong with a cheap can of Barbasol except when high school kids use it to decorate your car with phallic symbols on Halloween. So if you're looking for something that's a touch classier, all you have to do is spend a few extra bucks for a high quality, glycerin-based European shaving cream that will revamp your shave experience. In tandem with a shave brush, it will not only result in one of the closest and most comfortable shaves ever, the feel and scent of an English shaving cream can give your morning a much-needed freshening.
And don't forget after shave care. For most guys, the "after shave" is probably choosing what tie to wear that day. But making sure you address any nicks, razor burns and irritations with the proper products is an integral part of the process. Using the proper after-shave products is the icing on the cake – it will leave your face feeling healthy, moisturized and smoother than ever.
We Recommend these Shaving Creams:
We Recommend these After-Shave Products:
---
The Technique
When is it not about technique? Now that you're stocked on the tools of the trade, here are the 4 steps for a proper wet shave.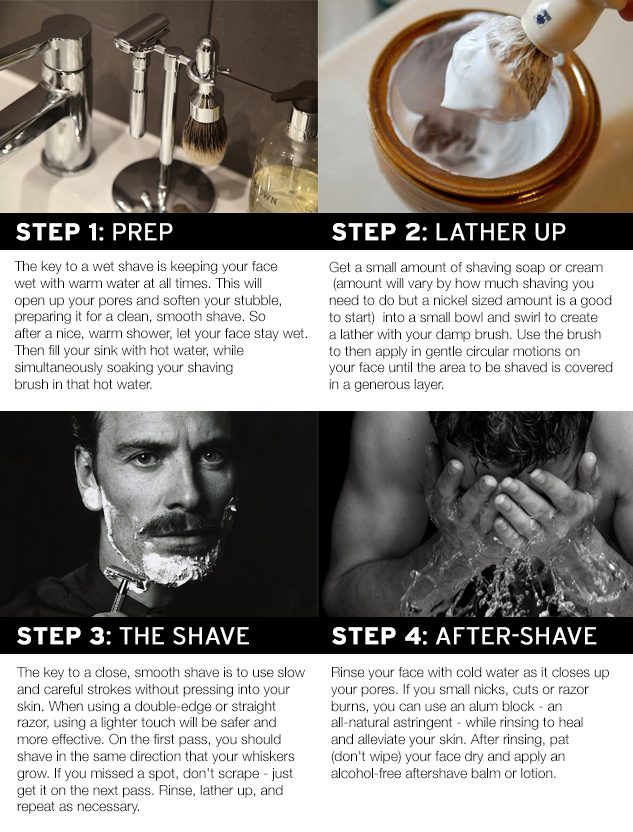 Feeling manlier already? We thought so. But more importantly, your facial skin and hair will be healthier too. Sure, it takes a little extra effort and care, but so do all the fine things in life— like that perfectly dry-aged rib-eye steak with a great bottle of cabernet-sauvignon and of course, a well-tailored custom suit. A complete gentleman knows how to shave like one, so go forth and add the traditional wet shave to your list of gentlemanly skills.

Got questions or comments on wet shaving? Share with us in the comments below! 
Image Credits: Jean-Baptiste Mondino / NYTimes 
---
Like What You See? There's More.
We'll send you style advice and intel for the modern man.
---