Style Series Part 3B Knowing the STRUCTURAL Details
Published on March 28, 2012
Last week we introduced you to details like accessories for your functional boutonniere (the lapel flower hole).  This week, we're moving on to Structural Details – details built right into your suit.  You can use these details to permanently enhance and personalize your look.
We love custom suits because they allow us to dictate the structural details we want to showcase.  These details can include monogramming, an inner lining color that has personal significance (like your NCAA team colors!), working cuffs, accent stitching or adding subtle texture and depth to your lapels with pick stitching.  These types of details speak not only to the craftsmanship of your garment but also to the sophisticated taste of its owner.
We break down this Charcoal Gray Custom Blazer for you below.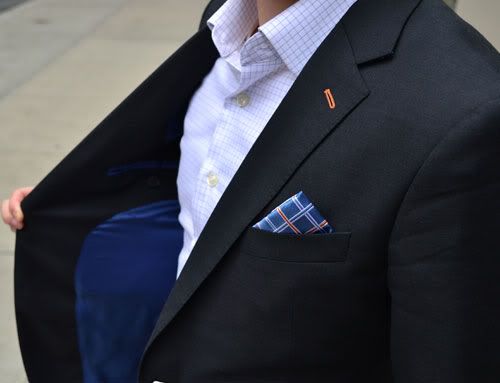 Inner Lining
The inner lining is an understated and often overlooked aspect of the jacket. But when carefully selected, it can be a way for you to make a statement without saying a word. While contiguous to your outfit, it's not really a "part" of your outfit.  This means that you don't need to worry about that inner lining color clashing with the color, pattern, or look of your shirt, trousers, etc.  Our co-founder Derek is sporting orange and blue above in support of our hometown Knicks! Whatever your choice, your inner lining will be noticed by the lucky onlookers who may catch a glimpse of your suit's inner personality.
Accent Stitching
Another small detail that can make a big difference in your suit is accent stitching. Instead of the usual neutral to dark threading found along the boutonniere and the sleeve cuffs, you can use accent stitching as a way to permanently add colorful character to your suit. Go with a dark or neutral color for quiet elegance or a brighter color for sophisticated dandy.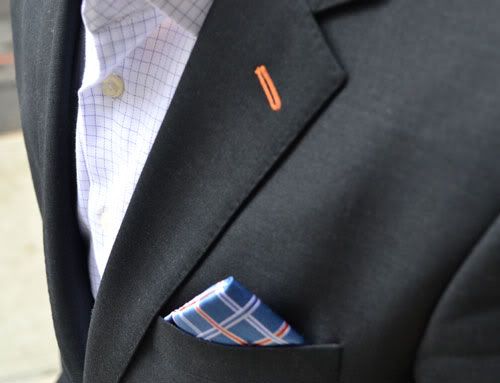 We love accent stitching because it's a visible moniker that makes this work of sartorial art yours. The monogram might be the literal signing of your name much like the way an artist signs the back of a painting, but the accent stitching is a unique and visible detail that reflects your own essence. It's a small dash of color at the corner of an orchestrated outfit that graciously bows after a masterpiece of a performance.
Sleeve Buttons
Finally, no treatise on structural details is complete without addressing the sleeve buttons.  Any quality custom suit should have sleeve buttons that overlap ever so slightly, aptly described as "kissing".  These orbicular romantics should also be functional, commonly referred to as "Surgeon's Cuffs", where the buttons actually work.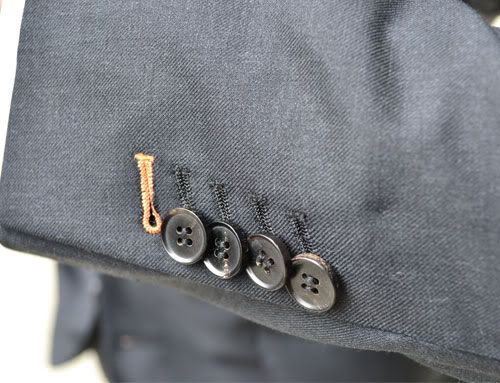 The working buttons indicate that the suit was most likely custom made for you or that it was made by a luxury brand because such quality construction is both more time consuming and labor intensive relative to non-working, "fake" buttonholes.  Leaving your last sleeve buttonhole undone was a way for gentlemen to show others that they were part of a certain sartorial brotherhood. You can also roll your cuffs up in ways that make your outfit more casual.  As the weather gets warmer, you can wear your custom suit jacket or blazer over a fresh t-shirt or henley, roll up the suit sleeves, add some wrist wear, pair with some denim or chinos and finish it off with a pair of fresh kicks.  Done and done.
***
We're interested in hearing about your encore-worthy performances. Send us some photos of you sporting your favorite details and we'd love to pass the inspiration along to our friends via Facebook. Photos and comments can be sent to concierge@blacklapel.com.
---
Like What You See? There's More.
We'll send you style advice and intel for the modern man.
---