Office Style 101: What to Wear to an Interview
Published on June 5, 2012
Note: This story has been updated to include what to wear for all sorts of job interviews. Check out the new story.
Unless you're intent on working for Mark Zuckerberg, your collection of hoodies and jeans probably aren't going to cut it for that job interview.  As the great Barney Stinson once said, it's time to "Suit Up!"
We show you how…
Conservatively Sharp
class="p2″>For an interview, your goal is to dress conservatively while looking as sharp as possible. Save your pinstripe suit for that client meeting and leave your purple paisley shirt at the cleaners (and don't go back for it). You want to look smart, attentive to details and unpretentious.
Dressing for your Job
"Wear something neutral…Nothing too flashy and nothing that makes you look as though you're trying too hard. If you're going into a bank wear a suit, but if you're doing something creative, wear what you expect you're going to wear doing the job. Start as you mean to go on." – Kim Jones, Dunhill Creative Director 
Be mindful of the culture of the company you are applying to. Is it a fairly conservative company where everyone is rocking a crisp suit? Or is it more of a lax dress code where polos, casual shirts and chinos are your bread and butter? If you're still lost, don't hesitate to ask the interviewer ahead of time on the suggested dress code for the interview. If you're not comfortable with that, ask a friend or acquaintance who works in that field.  When in doubt, overdress.
The Safe Bet Interview Suit: 
A well-fitting solid navy or dark gray/charcoal single-breasted suit.
A white dress shirt (long-sleeved of course!) with a classic collar and single-button barrel cuffs.
A solid or conservatively patterned tie such as a solid navy or gray tie
Brown or black plain or captoe oxford shoes that are nicely polished.
Socks that match the color of your suit.
Avoid These Interview Suit Mistakes: 
We Recommend: The Black Lapel Charcoal Gray Custom Suit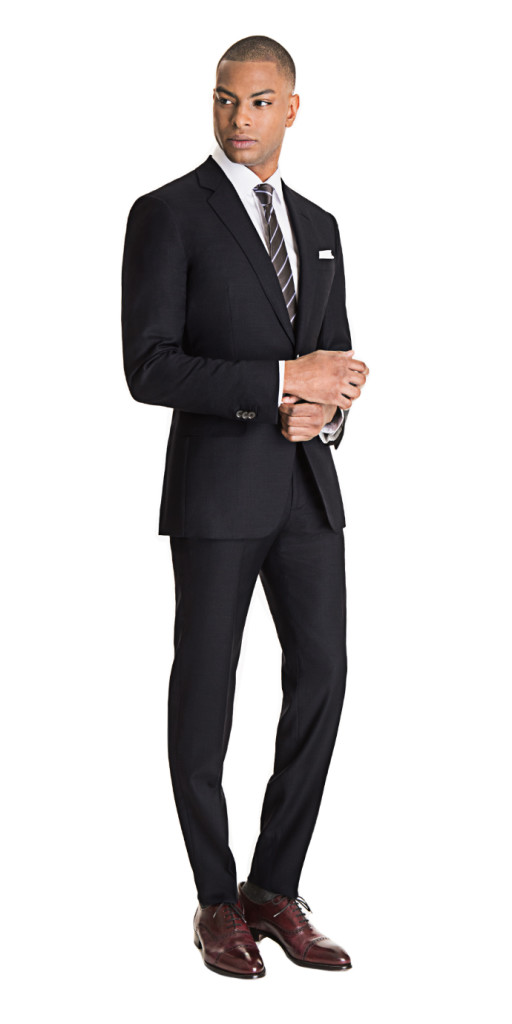 Slim or Tailored Fit
2-Button Jacket
Regular Notch Lapels
Single or Double Vented
Straight Flapped Pockets
Flat-front, No Cuff Pants
Skip the Ticket Pockets, Accent Stitching and Vest
If you are entering your final year of school, send us your questions on the professional world!  We may select one lucky reader to help us pilot a campus brand ambassador program.  Benefits will include personal discounts, bonus products and exclusive first looks at new products.  Email us now at concierge@blacklapel.com.
---
Like What You See? There's More.
We'll send you style advice and intel for the modern man.
---