How To Wear A Topcoat – 5 Tips
Published on October 5, 2018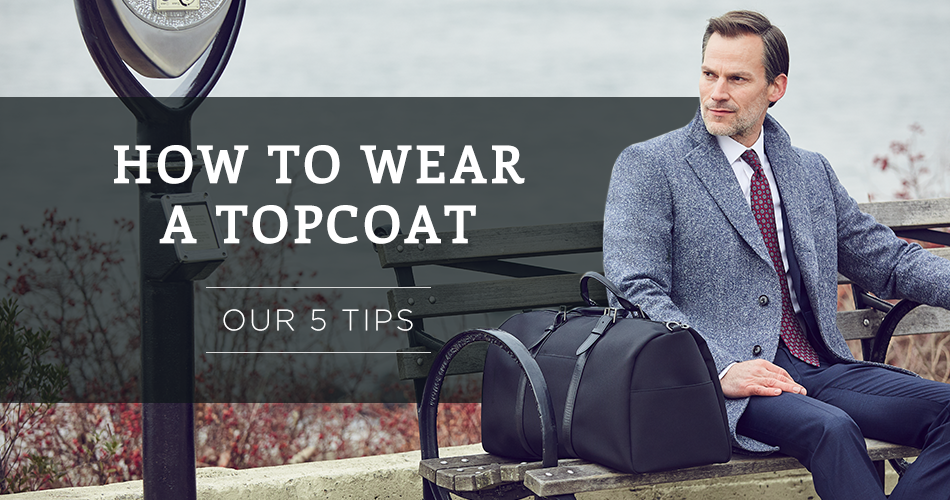 You spend hours picking out the perfect suit, agonizing over every customizable detail, from the lining to the lapels to the vent style that shows off all of those grueling hours at the squat rack. Finally, you have a suit you love and you look damn good wearing it.
Then, the hell-freezes-over weather starts rolling in, and you quickly realize that the suit alone won't be enough to keep you warm. You need some outerwear that will complement your suit, and have you looking (but not feeling) cool as ice. You reach into your winter stash and pull out a puffy parka that looks like it just returned from summiting Mount Everest…
…wait, what? No, that's not gonna fly.
Save the Michelin Man vibes for off-duty days and learn how to wear a topcoat for when you want to look smart during the depth of winter.
---
What Is a Topcoat?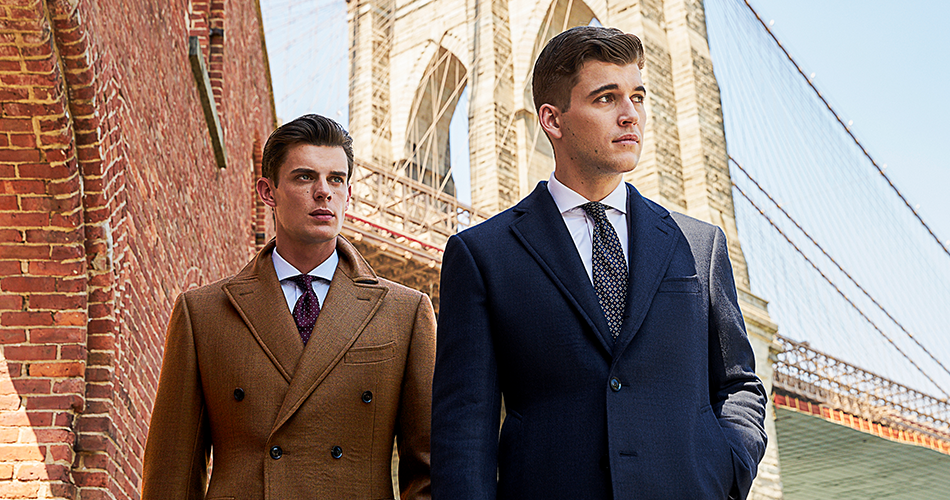 When it comes to outerwear, there can sometimes be some confusion, particularly with the question of topcoats vs. overcoats. We outlined the differences previously here, but we can still give you the low-down. The difference between the two isn't always visible (though overcoats can sometimes be lengthier), rather, it's found in their weights. Although topcoats and overcoats are both cold weather ready formal coats, topcoats are slightly lighter in weight which means they offer a bit less in heat retention in favor of a less heavy and cumbersome feel. Since you're laying up with a suit underneath anyways, we like topcoats for their comparative lightweight feel and versatility.
Now that we're on the same page, here's what you need to know about staying stylish and warm in a topcoat this season.
---
5 Tips on How to Wear a Topcoat
---
1. Mix In Some Color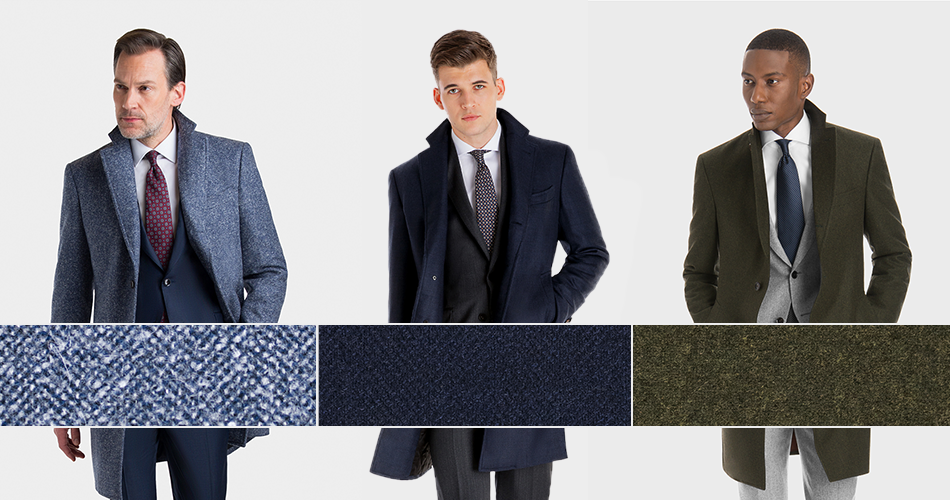 Winter can be a bleak time for everyone, but that's no excuse to let your topcoat look just as dreary. You have a great opportunity to liven up your look by adding some color and texture to your outerwear. For instance, you can rejuvenate your surroundings with an olive green, turn heads with a pepper blue, and use eye-catching patterns like herringbone to keep winter interesting.
---
2. Invest In Quality Materials
Like finding the right partner in a significant other, the right topcoat is a relationship you'll have for many years to come. Choose wisely. When you're out on the prowl, look for natural fabrics that look sophisticated and durable, and vow to insulate well and age gracefully. The right topcoat should promise maximum versatility, so, 100% wool, a wool-cashmere blend, or camel hair is the way to go. These nature yarns drape well and are woven to endure years of faithful wear.
---
3. Don't Succumb To Trends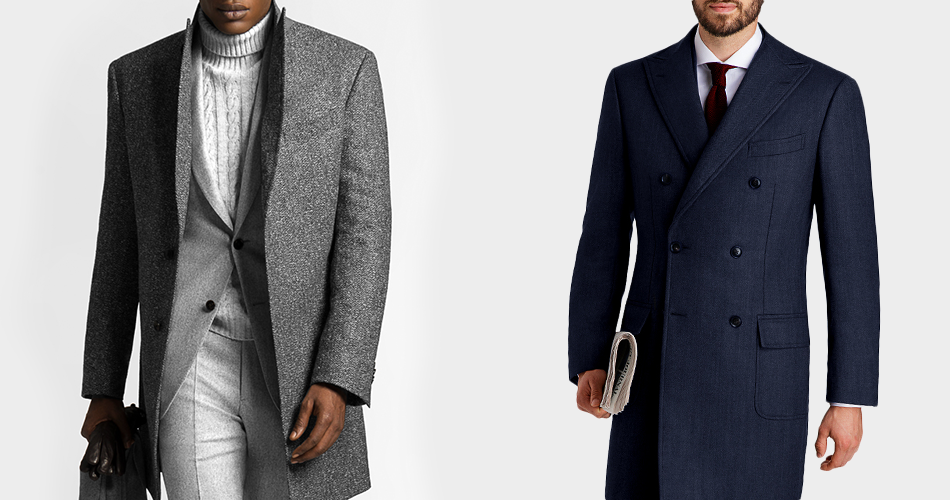 A leather coat covered in studs and zippers looks great on a Ramone, but we doubt your boss will be impressed. Opt for a timeless design that will get you the most bang for your buck and won't turn heads for the wrong reasons. A single-breasted style with three buttons and notched lapels is an easy win. A double-breasted topcoat version is also an option if single-breasted is too tame for your tastes and has the added benefit of a bit more fabric for that extra warmth in the torso.
Being stylish takes work.
We can help with that.
Stay in the know with style tips, how-to's, and so much more with our weekly newsletter.
---
4. Know How a Topcoat Should Fit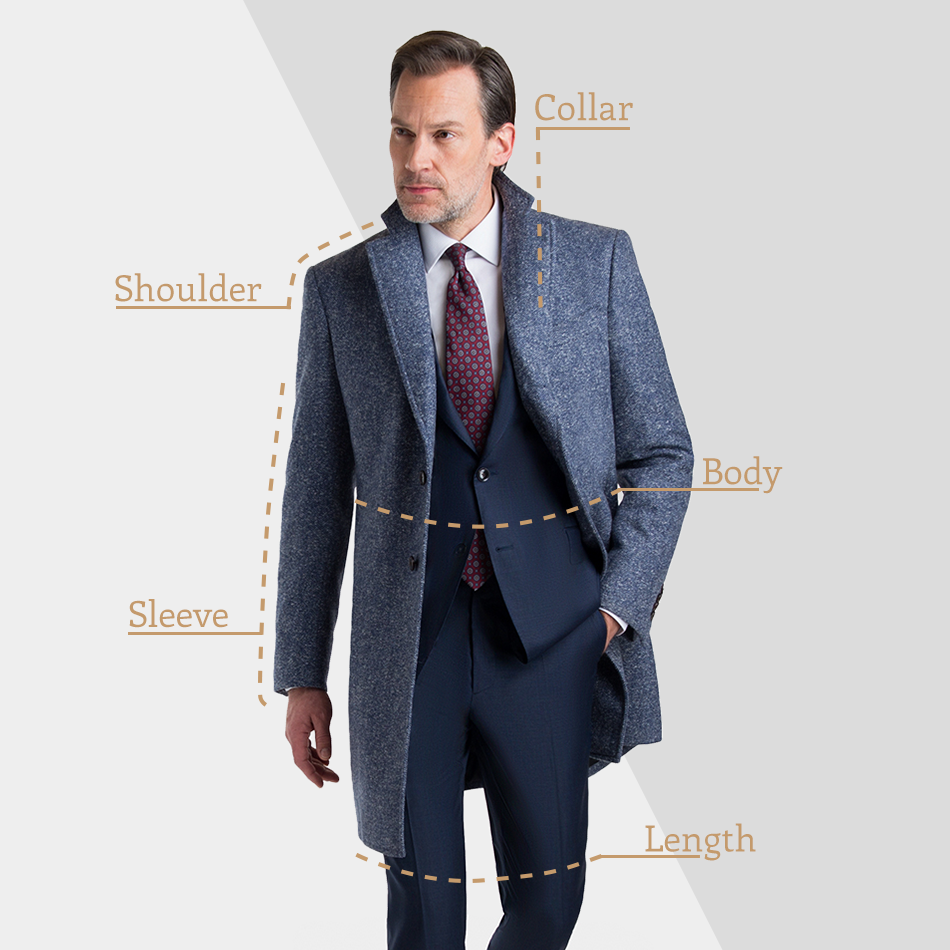 Now that you've tackled the aesthetics of design and fabric, you're ready to leap the final sartorial hurdle: how should a topcoat fit? The short answer: impeccably. The long answer below:
Shoulders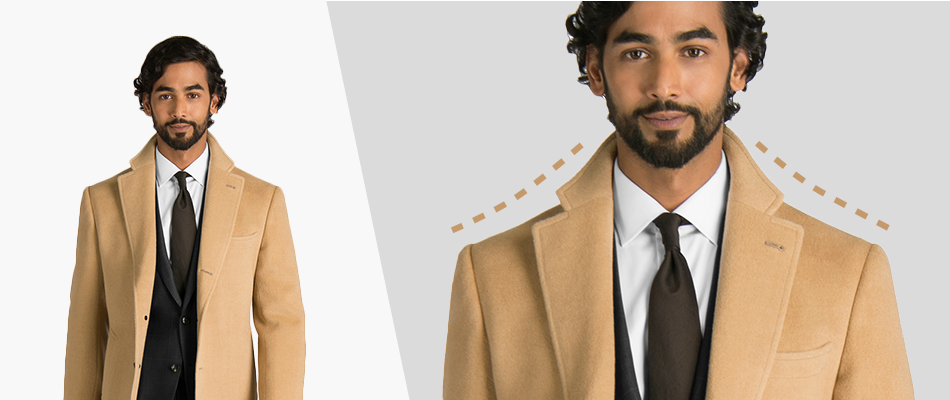 A topcoat (or any item of clothing, for that matter) shouldn't restrict your arm movements. Make sure to always look for something that fits squarely on your shoulders and is just big enough to fit over layers. At the same time, make certain that your coat's shoulders aren't too big, as that can throw off your proportions and make you look like a square.
The Collar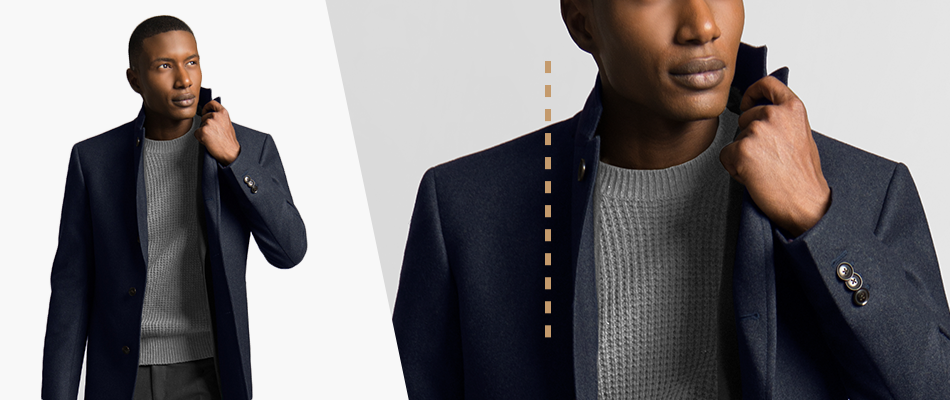 When propped, the collar on your topcoat is meant to be a barrier for the back of your neck against frigid winds. However, it also serves as an integral part of your topcoats overall suave sophistication. When you're buying a topcoat, you have to make sure that collar is going to stay at attention, be sure to test out the collar to ensure it has enough structural support to not sag or fall, as that will both look bad and leave your neck feeling bitter.
Body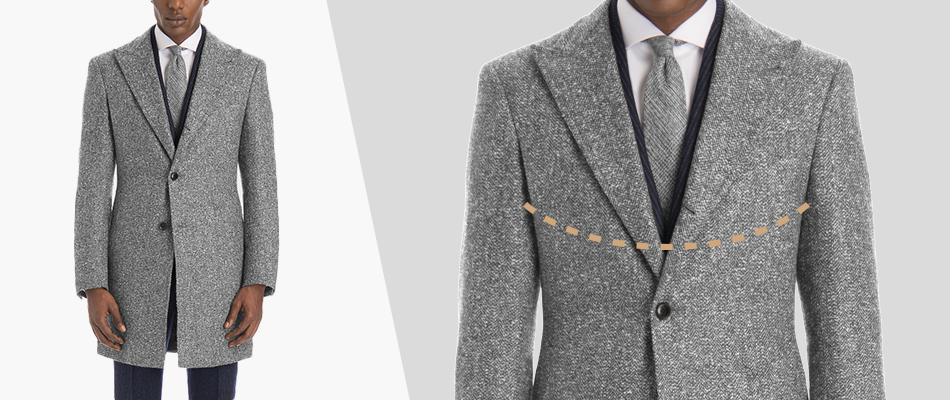 When it comes to how a topcoat should fit in the torso, your inner Goldilocks should be your guide. A topcoat can't be too baggy or its heat retention qualities will be compromised with large pockets of cold air seeping in. Nor can it be too tight leaving you with insufficient room to layer on really cold days or over-accentuating an hourglass figure. It must be just right. Fitted enough to be flattering to your silhouette, but roomy enough so you can wear your topcoat over a suit or shawl cardigan sweater underneath. You should see no pulling or creasing along the button closures when the coat is buttoned.
Sleeves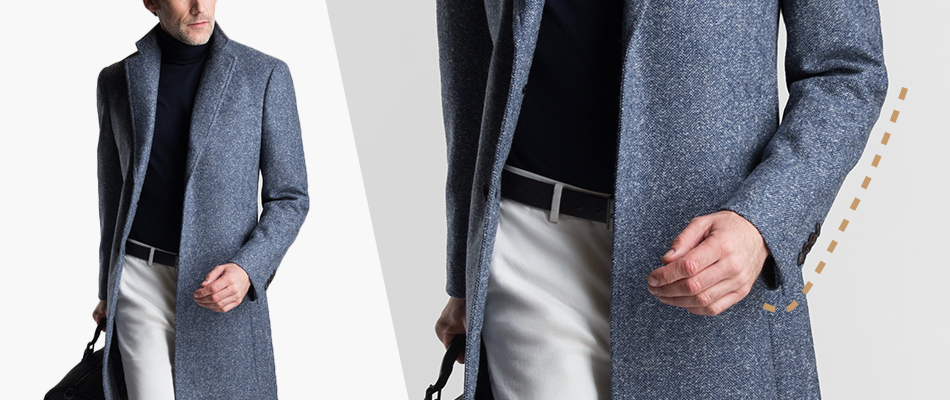 Remember two rules when it comes to sleeves. One, they must be wide enough to accommodate a suit or sweater underneath without constantly pulling at the topcoat sleeve lining fabric or having your suit sleeves always catch. Two, they must be long enough that your wrists and suit jacket cuffs are covered. If they cover any portion of your thumbs, you've gone too far.
Topcoat Length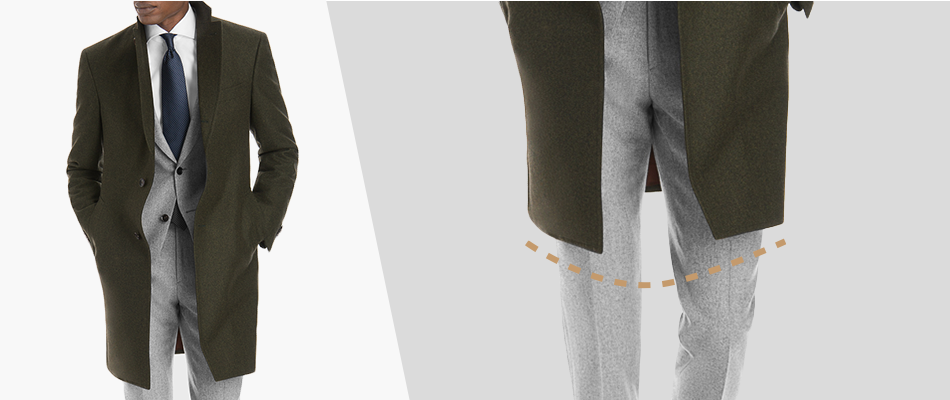 The modern interpretation for the ideal topcoat length has migrated upwards over the years. Knee-length or calf-length coats can look outdated and stuffy. Hip-length cuts make your body boxy and tread too close to peacoat (aka casual) territory. The sweet spot for a correctly fitted topcoat is when it ends below the midpoint of the thigh and above the top of the knee. This is generally referred to as three-quarter length.
If you're worried you will never, ever find a topcoat that meets all of these fit criteria, well, you're in for a treat.
---
5. Invest in Made-To-Measure
We're not saying off-the-rack topcoats aren't a good option, but, they aren't a great option. With an investment piece like a topcoat — something you want to make last — you should treat it just like you would your favorite suit. It should fit you impeccably and it should last longer than one Nor'easter. At Black Lapel, we offer made-to-measure topcoats that fit all of these criteria so you can rest assured that your investment was a wise move.
---
Ready For Winter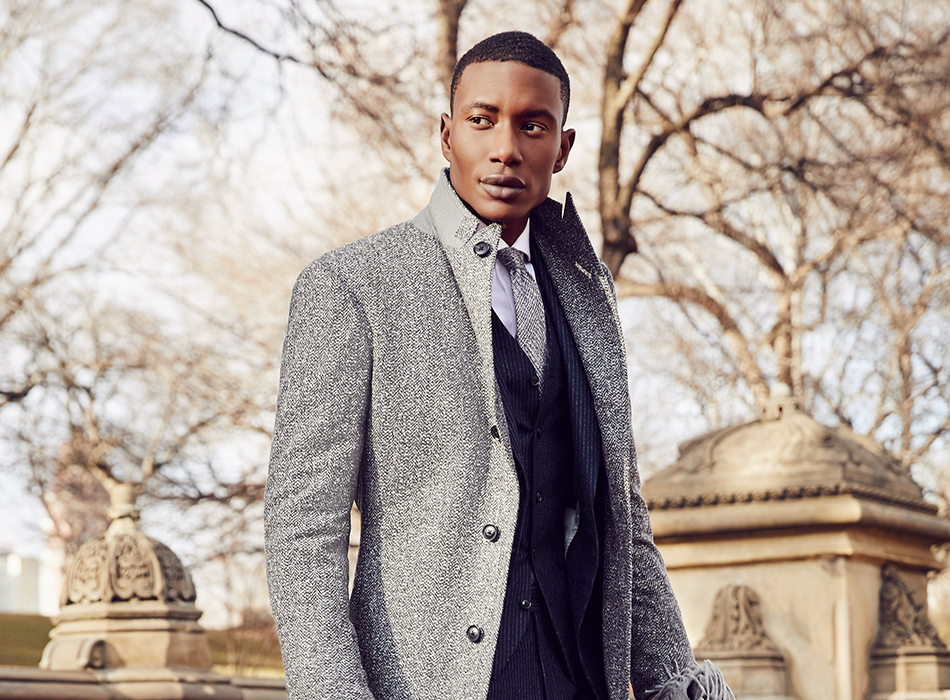 Congratulations, you outerwear connoisseur. You now know how to wear a topcoat. If you're ready to warm up to your next topcoat for the coming winter, we have some fresh new options for you to consider here.
---
Now you know how to wear a topcoat. Have any outerwear questions you need to run by us? Drop a comment below and we'll get back to you with an answer!
---
Like What You See? There's More.
We'll send you style advice and intel for the modern man.
---