5 Hot Weather Interview Tips
Published on July 31, 2015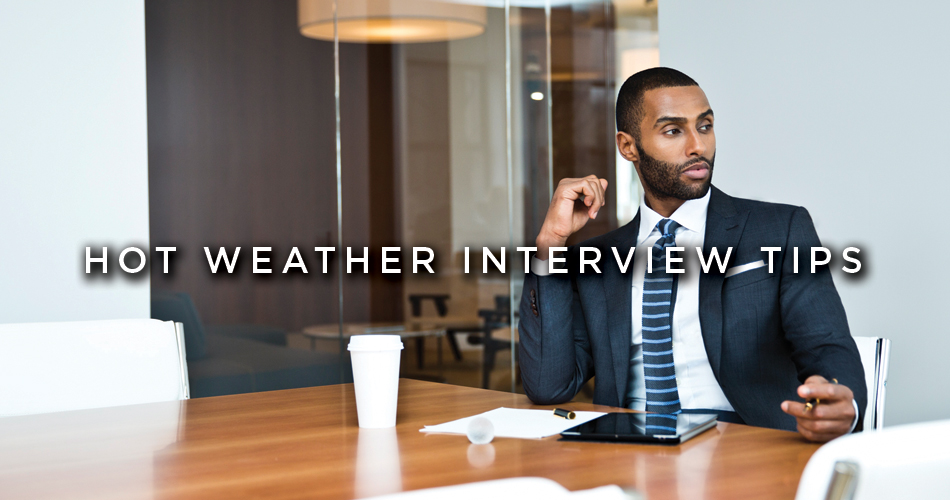 So you've lined up an interview for a great job. And if you want to be taken seriously as a candidate, that means you'll be wearing a navy blue or charcoal gray suit. Only problem is, it's hot as balls and the thought of putting on a dark wool suit to go to your interview sounds like a little slice of hell.
Job interviews are stressful enough, all the interview tips in the world won't help you if you can't take the heat. Not the pressure of making a good impression, but the actual heat. The last thing you need is to be sweating bullets during the interview like you just robbed a bank. If you want to make an impression as a guy who's got everything under control, you need to, quite literally, keep your cool.
So what are you to do? You could wear a lightweight summer suit. Will you get laughed out of the interview room? Maybe not, but you will be competing with your clothes for the interviewer's attention. Or, even worse, your style judgment, and, by proxy, your overall judgment, will be called into question.The better solution is to play with the cards you've been dealt. Now is not the time to indulge your independent streak or set a trend. Stick with the tried and true dark interview suits. Even during the dog days of summer, you can pull off the interview suit without looking like you stopped for a pickup game of basketball on the way to the interview. Here are the five hot weather interview tips that every man ought to know.

Follow these interview tips and instead of worrying about how you're sweating like
Patrick Ewing at halftime
during the interview, you can focus on making a good impression on the interviewer.
---
Like What You See? There's More.
We'll send you style advice and intel for the modern man.
---