A Guide to Bracelets for Men
Published on July 11, 2017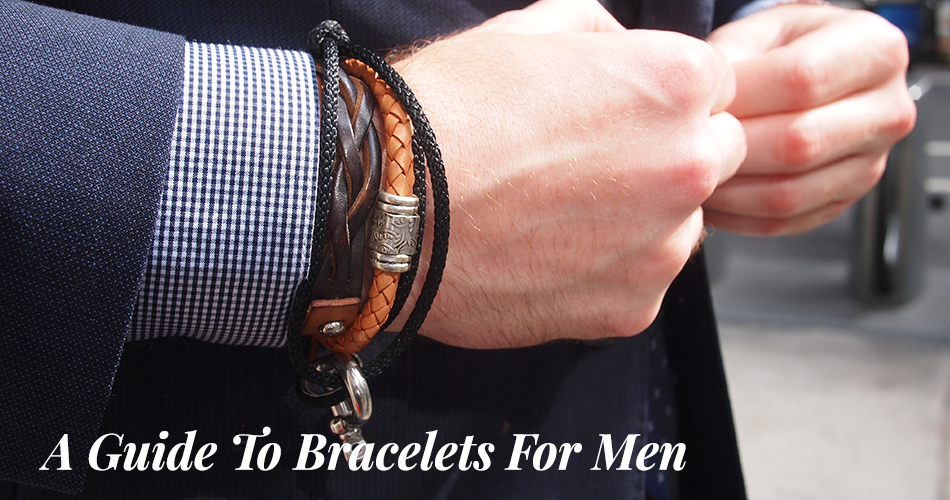 Think bracelets are for chicks? They are. But there are bracelets for men too…that's right, dudes just like you. In fact, if you take a look at the wrists of the most stylish guys you know, there's a strong chance they're wearing something on their wrists. Why? The bracelet is another opportunity to enhance your personal style and top off the look you're going for, whatever that may be.
Not sure where to start? Don't sweat it. Here are four different types of bracelets that any man's man like yourself can rock from the beach to the office and everywhere in between. Whatever your budget, whatever your style, we've got your wrists covered.
---
Leather
A leather bracelet answers the "aren't bracelets just for chicks?" question with a question of its own – i.e., "are you man enough to wear this?" A deep, rich brown bit of leather on your wrist signals refined masculinity. Hints of leather are a great way to express your inner rebel without going overboard. Furthermore, if you're considering wearing several bracelets on one arm for a stylishly accessorized look, a leather bracelet serves as a great anchor piece.
---
Woven
Wrapping some woven fabric around your wrist is a great way to bring some color to the party. You can find these in just about every shade of color on the color wheel, making woven bracelets a great way to accent any color in your outfit. You can dress woven bracelets up or down, too. Today's relaxed corporate culture means you can pull off a woven bracelet that picks up a color from your shirt/tie/pocket square in all but the most conservative offices. Still, the same bracelet works equally well for throwing back a few at the beer garden on a lazy Saturday afternoon.
---
Beaded
The beaded bracelet is definitely having its moment. Once relegated to the arts and crafts area of summer camps, refined grown man versions of the beaded bracelet can be seen on the wrists of many a natty man in a suit. The beads can be made with anything from onyx to wood and the prices vary accordingly. There is one rule of thumb that can be applied to any beaded bracelet – the bigger the bead the more casual the bracelet. Save the marble sized rocks for the weekends. For a more formal, sophisticated look, keep it simple with the smaller, pea-sized beads.
---
Metal
Wearing a metal bracelet can be best summarized by the infamous Mobb Deep, who once said there "ain't no such thing as halfway crooks." If you're going to wrap a hunk of metal on your wrist, you have to be all in and fully committed. Since you're toeing the line between looking like a badass vs. a cheeseball, you've got to make sure you come correct. If you work in a conservative office, keep metal on the sidelines. But when you do have the opportunity, wear them with a more subdued outfit because a metal bracelet can serve as a centerpiece of its own.
---
Of course, if you've got money to burn or you're looking to show some love to the folks at your favorite custom clothier / style journal (hint, hint), then you can always shell out $44,000 for a men's LOVE bracelet from Cartier, a 18K white gold bracelet with paved diamonds.
Got a bracelet you can't live without? Give it a shout out with a comment below.
---
Like What You See? There's More.
We'll send you style advice and intel for the modern man.
---