5 Essential Spring Suit Color Combinations
Published on March 16, 2018
When you hear spring suit color combinations, you might expect to find some blue suits, navy suits, gray suits, and brown suits. They will be light colored, lightweight suits. You know the kind of bright, punchy colors that take over the suits on the covers of men's magazines every spring.
We like those suits, and appreciate when fashion forward guys pull them off. But if you work in an office where you have to wear a suit (finance, law, etc.) these kind of more aggressive suits might be frowned upon. (For the record, not all spring suits lists are like this. A suit that we have professed our love for in these very pages was recently added to a stellar spring suit list by Men's Journal.)
Does that limit you to the doldrums of plain, conservative style? Hardly. Below we offer 5 suit color combinations that include bright, saturated and spring-appropriate styling that will liven up your looks and are still safe for corporate environments.
---
1.
FLORAL x BLUE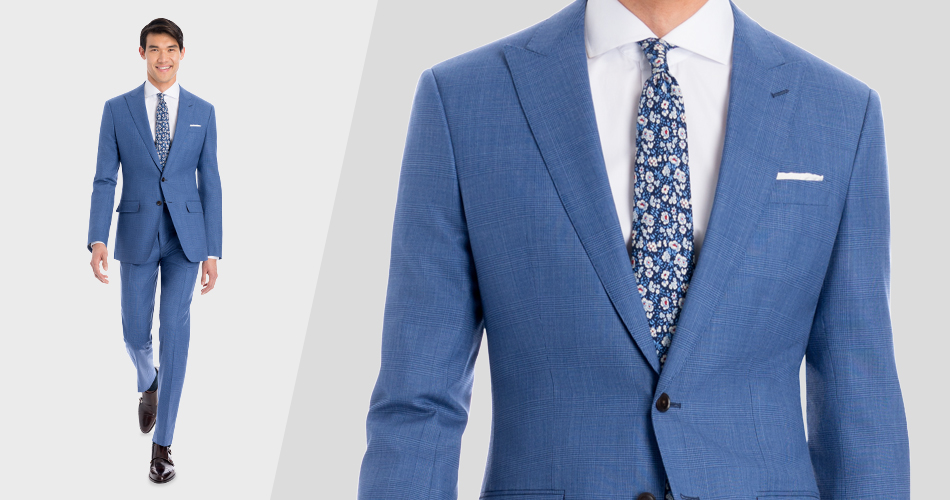 Turquoise carries with it many connotations of sunny tropical seas and the color itself seems to emanate seaside vibes. Maybe that's why it's so good as a part of dark blue, colder looking suit color combinations. The two colors sit adjacent to each other on a color wheel making this kind of a no-brainer of a color combination, yet most men don't even consider this combination. Wear a turquoise shirt and dark blue suit color combination like this and you'll blend in with the crowd enough to go anywhere but you'll stand out enough to get noticed.
Key trait that will help you pull this off: Blue eyes. If you've got blue eyes this look is money, though it's still a good style move for non-blue eyed gents.
---
2.
LAVENDER x GRAY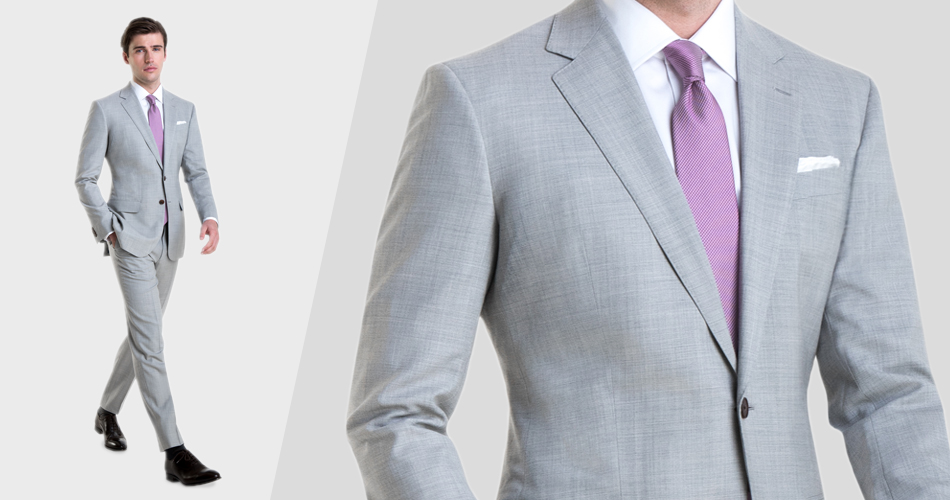 Lavender, gets a bad rap among men. It's lumped in with pink as a "girl's color" by the unenlightened who seem to believe that wearing a color has some bearing on your gender or sexuality. The truth is, lavender is an underused color for men because most guys look at lavender clothes and accessories. We love lavender shirts and gray suit color combinations because the sharp color pops well on the gray.
Key trait that will help you pull this off: Dark hair and a tan. Dark hair balances out the darker tones in a gray suit and help the lavender to pop. Gray hair, of course, works as well.
---
3.
ORANGE x BLUE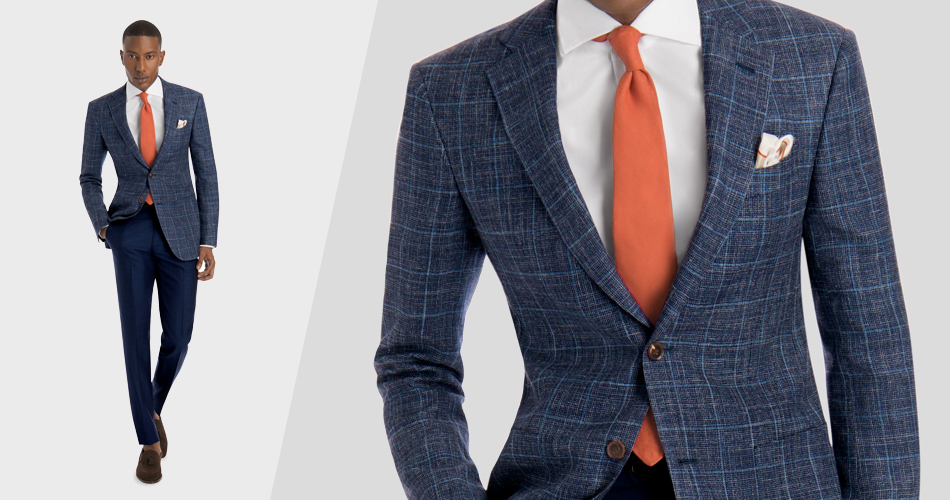 Yes, we know, you're just getting over the bombardment of yellow that hits when Easter rolls around and Peeps hit the shelves at every drugstore and supermarket. Still, yellow gets left out of a lot of men's wardrobes. That's a shame because light, bright yellow ties and deep dark navy suit color combinations are surefire winners.
Key trait that will help you pull this off: Contrast. If you've got little to no contrast between your skin tone and your hair color, the high contrast yellow accessory and navy suit color combination will overpower your whole look.
---
4.
PASTEL BLUE x BEIGE
If you're a regular reader of The Compass you may already know that we're fans light blue and dark brown combinations. But when the warmer weather rolls around, we lighten things up with pastel blue and earthy gray suit color combinations. Maybe it's the subtle nod to sand and surf that gets us going about this combination but whatever it is, it works.
Key trait that will help you pull this off: Brown hair. As we said, we love light blue and dark brown. Dark brown hair contrasts nicely with light blue shirts and ties and really makes this whole look sing.
---
5.
WHITE x ANYTHING IN YOUR CLOSET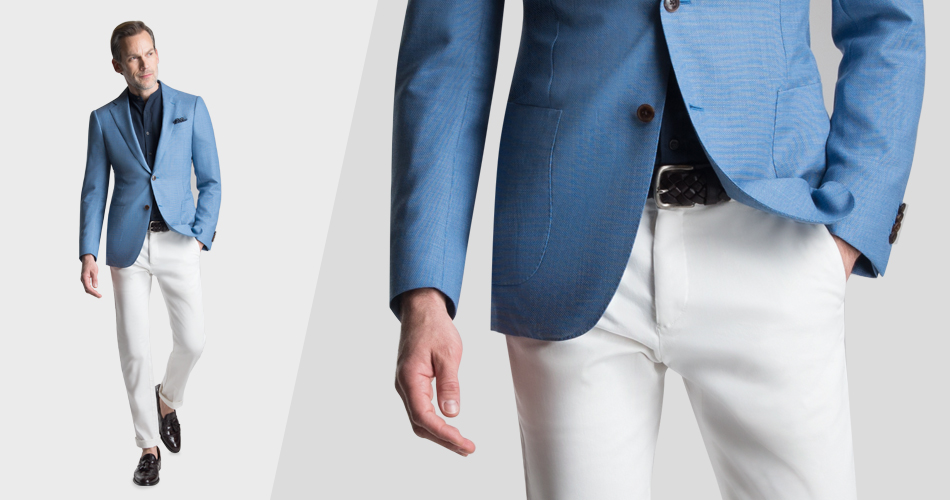 Okay, so this one's kind of the odd man out on this list. But we wanted to point it out because it's still an underused combination. While khaki chinos have their place in your wardrobe, white chinos can truly set your style apart. You can combine them with just about every jacket in your closet, but it really works nicely with patterned jackets.
Key trait that will help you pull this off: Moxie. White chinos are not for the faint of heart, but wear them with confidence and you're bound to get attention (in a good way).
---
Like What You See? There's More.
We'll send you style advice and intel for the modern man.
---