Pick The Right Suit For Any Wedding
Published on July 25, 2012
---
When it comes to wedding attire for men, you want to make sure you're dressed appropriately for the right occasion. We've got a list of examples to get keep you from sticking out like a sore thumb in the wedding photos.
---
Wedding season is upon us. For some, this is simply an excuse to drink excessively, eat gluttonous amounts of food, to bust a move on the dance floor in a glorious reunion with old friends and to perhaps be on the lookout for a future life mate of one's own. Of course, there's also the part about it being your buddy's Big Day. So for the sake of your friendship and for the permanence (hopefully!) of wedding photos, bone up on wedding attire for men and don't show up in the same outfit you wore to prom. What follows is our short guide to wedding attire for men of style. A wedding is not the time to experiment and show off that pink suit or that trendy suit-sockless-sneaker combo that you saw in the latest issue of GQ. The first rule of thumb is a question you should ask yourself: "Is my outfit going to get more attention than the bride's dress? If the answer is "Yes", you should re-consider or end up facing the wrath of bridezilla. Instead, wedding attire for men should communicate an understated classiness that catches a glance here and there in a "damn, you clean up nice" kind of way.
Following the Dress Code If there ever is a time to follow the rules, it's at a wedding. So we put together this simple infographic to break down the different types of wedding attire for men. Start by checking the invite. The hosts usually provide clear guidelines on wedding attire for men and women in the invitation. This will save you the risk of looking rude, pretentious or downright silly.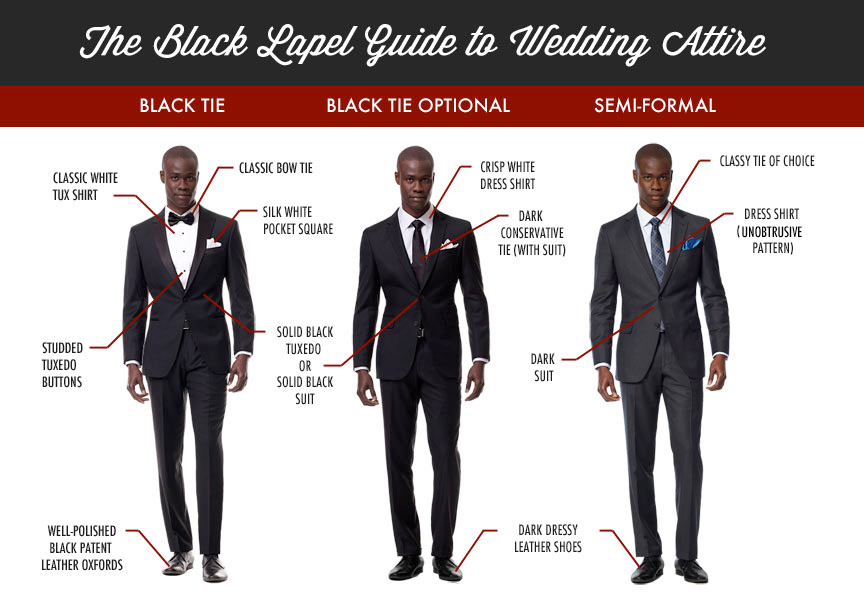 Black Tie / Formal: Traditionally, this means a custom tuxedo with a white shirt, bow tie and cummerbund or vest, black (patent leather) oxfords. You can further "formalize" your outfit with a nice pair of cufflinks or a set of tuxedo cuff links with matching shirt studs (if your shirt warrants such) and a silk white pocket square.
Black Tie Optional: This means the hosts suggests wearing a tuxedo (and will likely be wearing one himself) but does not insist upon it for the guests. If you're looking for a reason to feel like James Bond, we suggest a tuxedo but if you're not feeling the tux, you can get away with a sharp Black Custom Suit. The key is to keep it as formal as possible. To go along with your tailored black suit, we suggest a solid white shirt, a solid silk black tie, black dress belt, well-polished black oxfords, a white pocket square and cuff links to give it that "black tie" look.
Semi-formal: Semi-formal wedding attire for men usually translates to a full suit and dress shirt with a tie.  In terms of fabrics, wool or wool-blends work best. But depending on the weather of the wedding's location, seersucker or linen fabrics may be appropriate; however, we suggest you inquire beforehand. You also have more leeway with color at semi-formal weddings so feel free to add some different hues with your accessories but when in doubt, go with the core colors of black / navy / charcoal and white. Regardless, you should skip the tuxedo here as you'll find yourself looking mightily overdressed. Note: Semi-formal is not the same as business casual, nor is it a license to dress sloppy.
White tie: The highest order of wedding attire for men, this super formal dress code is also very rare for contemporary occasions. Traditionally it calls for a tuxedo with tailcoat, white tie, and white gloves and is reserved more for the most formal of events (think presidential dinners).
Destination Weddings You know the saying about Rome and following local customs. It applies to weddings too. Formal wedding attire for men in London means a morning coat. On the flip side, going bare feet on the sandy beaches of the Caribbean may mean you'll be able to go without a jacket. Your wedding invite will be the first place to look to for guidance but if it isn't clear or you're just not sure, you can always ask the bride and groom. They'll appreciate the thoughtful gesture.
Plan Ahead and Let An Impeccable Fit Do the Talking If it's been a while since you've dusted off that one lonesome suit in the back of your closet, this might be the perfect excuse to get yourself fitted up for the occasion. After all, wedding attire for men, unlike the clothes women might wear to a wedding, usually works for other celebrations (New Year's Eve in a tux, anyone?) or even business wear (a badass suit for the big meeting). Alternative uses aside, there is nothing like seeing the expressions of old friends and family when you walk into that wedding reception with a perfectly fitted suit or tuxedo. There's no better way to let them know you're a man of taste and refinement and that you've spent the intervening years learning the ways of the world. And if this is your wedding? Well, you wouldn't want a guest showing up in a Black Lapel custom suit and stealing your thunder now would you?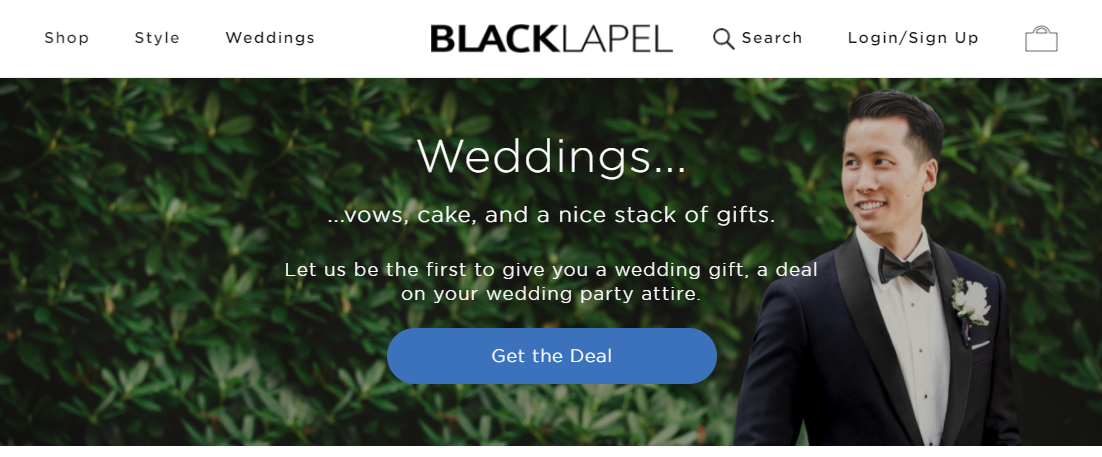 Getting Married? If you plan to tie the knot soon and you're looking for a perfect custom suit or tuxedo for your big day, check out our wedding page. You can also inquire about our group discounts for your wedding party.
---
Like What You See? There's More.
We'll send you style advice and intel for the modern man.
---