Learning How To Wear a Khaki Suit
Published on April 27, 2018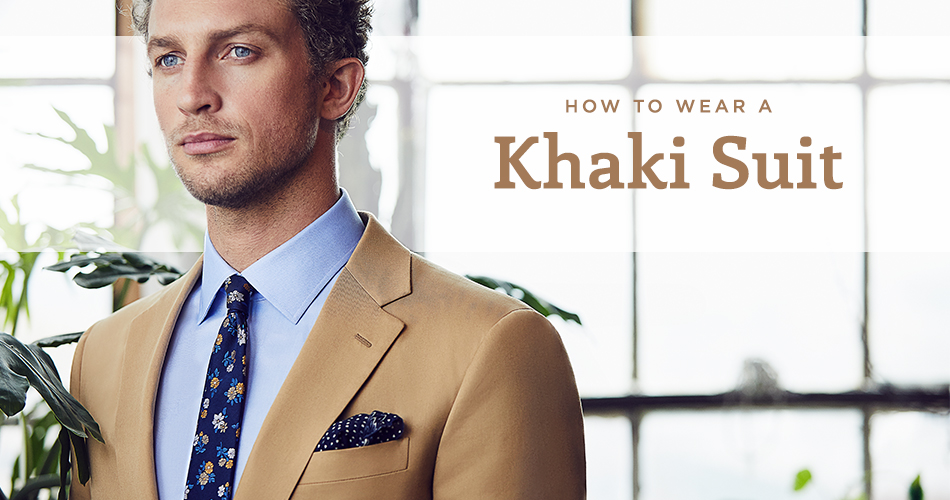 Wondering how to wear a khaki suit this summer? Here's your how-to guide, complete with outfit ideas
It's Time To Learn How To Wear A Khaki Suit
It's Thursday morning, 6:45 a.m., and your alarm has just gone off for the third time. That third ring signals the necessity to actually get up, so you pop out of bed while your to-do list is already reeling in your brain. To avoid going into maximum overdrive before you've even had a sip of coffee, you decide to take one thing at a time. Getting dressed is your first priority.
After sleepily waltzing over to your closet, you pull back the doors to find the same 5 suits hanging in front of you. In various shades of blue and gray, they all start to look the same after a while. Blindly, you grab one and throw it on over a white shirt and blue tie…for the fourth time this week.
Sound familiar? If so, it's most likely time for a spring and summer wardrobe update. Your office already has a Gets A Salad on Friday Guy and a Breathes With His Mouth Open Guy. It doesn't need a I Wear The Same Thing Every Day Guy, too.
Stand out this coming season with the timeless (and still trendy) khaki suit. "How to Wear a khaki suit?" you ask? Easy. And in many ways. A garment like this in your wardrobe will be a staple not only this season, but for years to come.
---
An Investment for the Ages: The Full Khaki Suit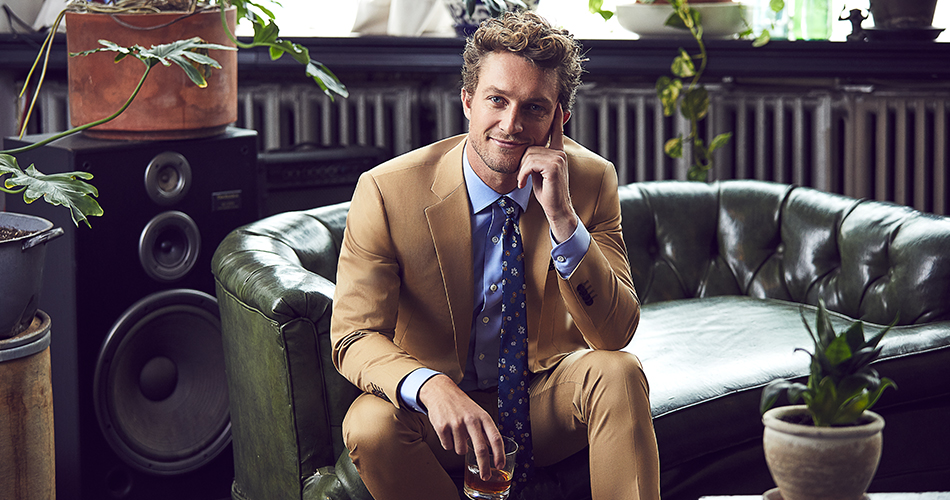 When it comes to incorporating khaki into your business wardrobe, we suggest not looking to Dwight Schrute for inspiration. Instead, do the opposite of America's favorite "Assistant to the Regional Manager" and aim for some contrast. Think dark brown brogues and belts, gem-tone ties, and accents that will make this suit your own. To channel your inner cool-guy vibes, throw on a pair of shades and slip into your fave pair of sockless loafers. Can't get away with that in your conservative office? Opt for the Aspiring C-Level look with a sharp briefcase and the perfect tie/tie bar combo.
Do keep in mind that most khaki suits are made of 100% cotton. This means that no matter how you style it, the fabric can lend itself to a bit of wrinkling. This does not mean that it can't be dressed up for different occasions. Lean into those soft wrinkles around the elbows and knees, and work with the nature of the fabric to create laid-back style in a sophisticated manner.
---
Breaking It Down: Khaki Suit Separates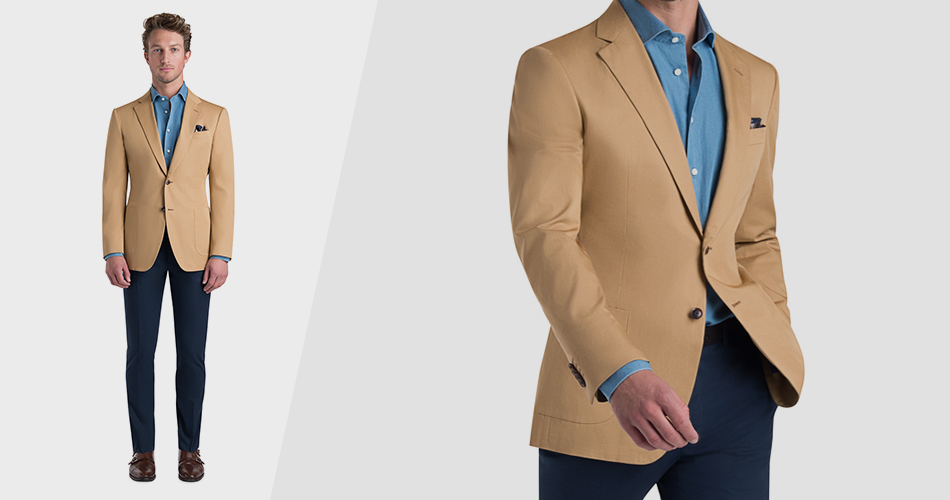 Now, before you complain about looking like Jake from State Farm, do consider that a khaki ensemble in your suiting arsenal can provide more outfit variety than you may suspect.
Let's begin with the khaki jacket. Layering it over any of your summer shirts pretty much warrants a thumbs-up from our stylists. That means that whether you're a fitted-polo-and-jeans kind of guy or you're a man who prefers the classic button-down-and-chinos combo, you're in luck. Layer your khaki jacket on top for an instantly elevated look for any warm weather occasion.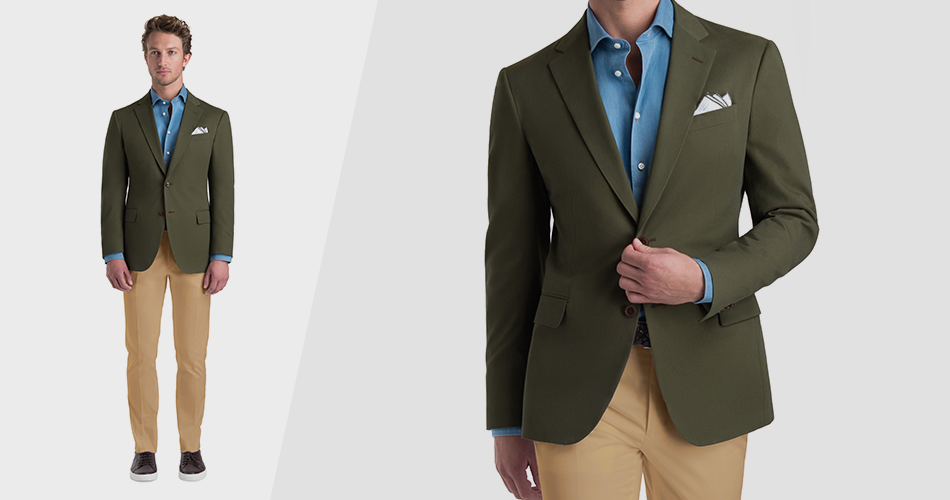 When creating complete looks for your khaki pants, remember that they're not your butt-hugging casual chinos. These are 100% cotton pants that will drape similarly to (and look a bit more like) suit pants. Pair them with an equally comfy Olive Cotton Custom Blazer or another favorite earth tone layer on top for a modern spin on the classic combo with a navy jacket. Want to incorporate your own personal style and kick it up a notch? Fold up a floral pocket square or top everything off with a linen tie — both perfect accoutrements for summertime.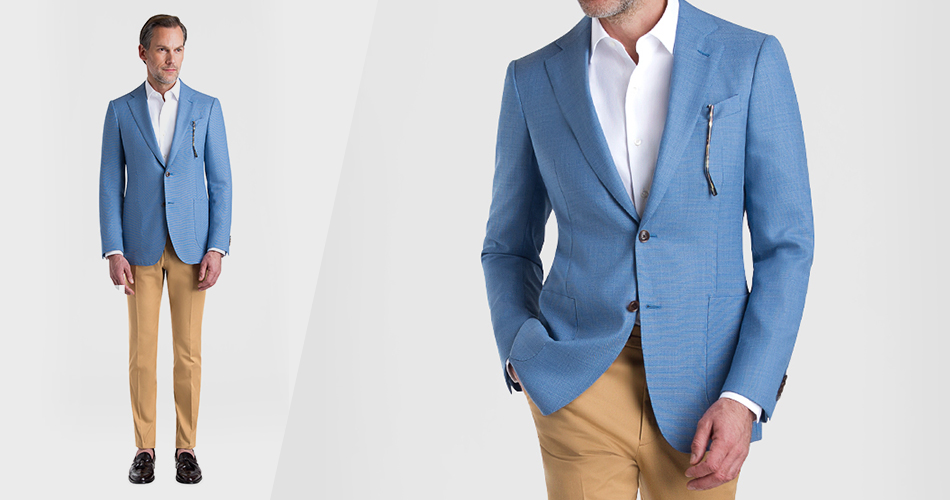 Another way to seamlessly incorporate these warm weather trousers into your summertime closet is to remember that they're not solely reserved for special occasions or for the office. Grab a solid, plain tee to tuck in, then layer on our summer-favorite Light Blue Hopsack Blazer. (This particular jacket is great for hot weather due to its feather-light weight and lining-free construction.) Finish everything off with a pair of clean monochrome sneakers or summer shoes that speak to you — after all, you were saving those jacquard espadrilles that you sleep-ordered at 2:00 a.m. for just the right outfit. With that, you're all set for boozy brunch.
---
Like What You See? There's More.
We'll send you style advice and intel for the modern man.
---