How Oxford Shirts Moved Into The Office
Published on November 20, 2015
When you hear Oxford shirt, you might think of the kind of Oxford cloth, button-down collar shirts that first became popular on traditional college campuses (like Oxford) where they were staples of the preppy wardrobe. These shirts are made with a bulky cotton that holds its own when paired with rougher, heavier fabrics like denim, making them the perfect addition to most men's casual wardrobes, but not the kind of thing you'd see with a suit. Even "dressed up" the way 60s Ivy Leaguers popularized them with ties and blazers, Oxford shirts were often worn with chunky knit or wool ties and beefed up corduroy and tweed blazers. The result was look that lived in a sort of middle ground between casual and dressy.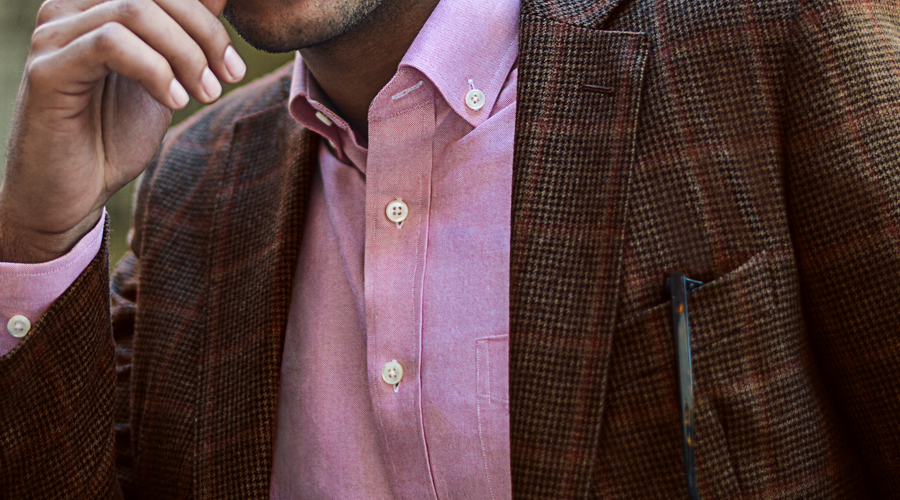 A semi-casual look.Red Solid Oxford Cloth Custom Shirtwith Cobble Hill Brown with Burgundy Windowpane Custom Blazer
Over time, Oxford shirts grew in popularity to become standard issue for relaxed, yet stylish, men everywhere. When you throw on an Oxford shirt with a pair of chinos, and you're a step ahead of the weekend T-shirt and jeans crowd but still casual.So the idea of dressing up a classic Oxford shirt for the office doesn't sound like it would work, but there's a lesser-known Oxford shirt that is changing things. It seems the Oxford shirt has graduated from college, gotten a job and started to show up in the office in the form of an Imperial Oxford shirt. Also known as Royal Oxford, Imperial Oxford is a dressier, softer cloth that bears the same name and is woven like the classic Oxford cloth but results in a very different type of shirt. This Oxford is dressy enough to sport with your finest suits and ties.
The Suit-able Oxford Shirt
So what makes the Imperial Oxford shirt office-appropriate? It starts with the weight. Imperial Oxford cloth is heavy, but lighter than a traditional Oxford cloth. Because it's lighter you won't overheat in an Imperial Oxford underneathbeneath a suit jacket. Yet this shirt is substantial enough to stand up to repeated wear. That puts Imperial Oxfords right in the sweet spot for a strong, reliable dress shirt that can be worn with almost any suit.
Texture also plays a role in making the Imperial Oxford a dressier version of its traditional Oxford cloth brethren. Both traditional and Imperial Oxford cloths are made using a basket weave that adds surface texture to the shirt. But while traditional Oxford cloth is woven in alternating white and colored threads, Imperial Oxford includes more white, adding depth and visual texture to the shirt.
An Oxford Shirt For Every Occasion
The two Oxford shirts shown below are differentiated by how they're worn. The traditional Oxford is paired with chinos and without a tie, while the dressier option is shown here with a tie and dress slacks. And the shirts are also differentiated by two crucial details.
THE SATURDAY STYLE
OXFORD SHIRT
THE Office Style Imperial OXFORD SHIRT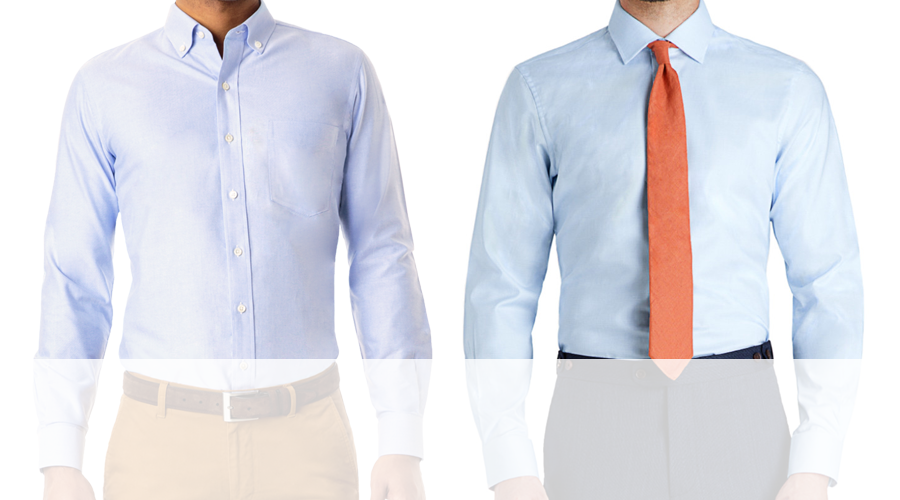 The Collar
A button-down collar is a telltale sign of a traditional casual Oxford shirt, while the Imperial Oxford looks great with a dressier spread collar.
The Pocket
The chest pocket of the Oxford shirt signifies a more casual shirt while the Imperial Oxford shown here has the uninterrupted front that's characteristic of a dress shirt.
Take Your Oxford Shirt to Work Day
Now that we've opened up your eyes to the full spectrum of Oxford shirts, are you inspired to move the Oxford into your workweek wardrobe? Got questions about how to wear an Oxford to the office? While we may not have been smart enough to get into Oxford, we're pretty knowledgeable about how to wear an Oxford. Just leave your questions in the comments below and we'll help you nail your look.
---
Like What You See? There's More.
We'll send you style advice and intel for the modern man.
---