Men's Jewelry – A Guide to The Well-Dressed Wrist
Published on April 10, 2015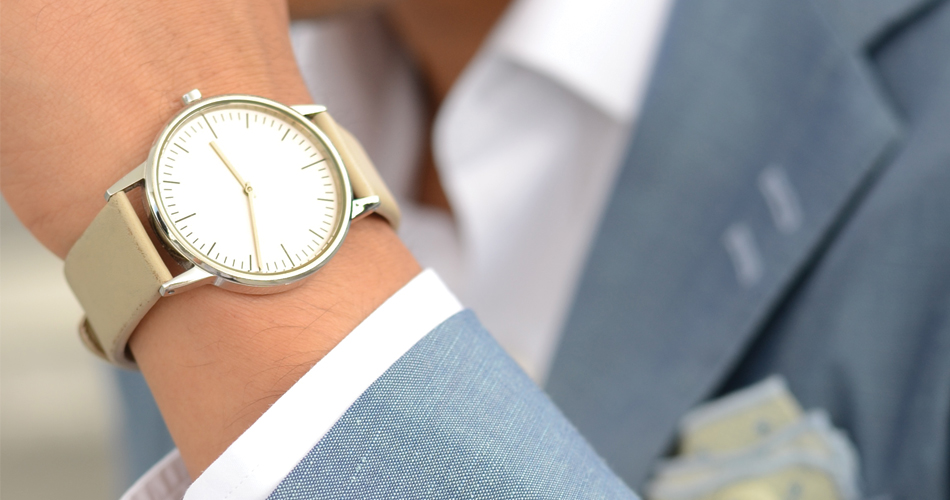 A lot of men seem to think jewelry is a women's thing. Say the word jewelry and they immediately start thinking of the rings and necklaces and bangles that women wear. Maybe the term men's jewelry needs to be re-branded. If you think of things like men's watches, men's bracelets and cufflinks as hardware, then you will realize that men's jewelry is actually one of the most important elements of masculine style.
In fact, some men's jewelry is not only a part of their style, it defines their style. So we think it's time to reconsider men's jewelry. After all, if you want to look good, something so integral to your style ought to be more than just an afterthought.
You'll also notice that men's watches, men's bracelets and cufflinks are all competing for the same real estate, your wrist. For men, it's hard to compete with the wrist for places to show off your style acumen.
So what's the secret to a well-dressed wrist? That depends on who you ask. Some prescribe a minimalist approach, claiming a that form should follow function and that a wristwatch is the only thing that ought to adorn a man's wrist. On the other side of the spectrum are those who lay it on thick with everything they can think of from watches to cufflinks to bracelets. We believe that somewhere between the two extremes lies the style sweet spot, but ultimately it's up to you to decide.
A Men's Jewelry Minimalist
For the man who eschews any unnecessary items the well-dressed wrist conversation starts and ends with watches. Michael Thompson, Editor-in-Chief of International Watch magazine suggests that guys who are looking to keep their look simple stick with simple watches. "Manual-wind models" Michael says, "maintain a dressier profile, as these are thinner and will slide under any shirt cuff with ease."
---
"Manual-wind models, in general, maintain a dressier profile"
-Michael Thompson of IW Magazine
---
Michael suggests the manual wind watches that are available from Nomos, like the Ludwig, which we love. Admittedly, they are a bit pricey, so if "minimalist" describes not only your style but your budget too, check out the selection of simply styled watches from the brand we've highlighted in The Compass before, Martenero.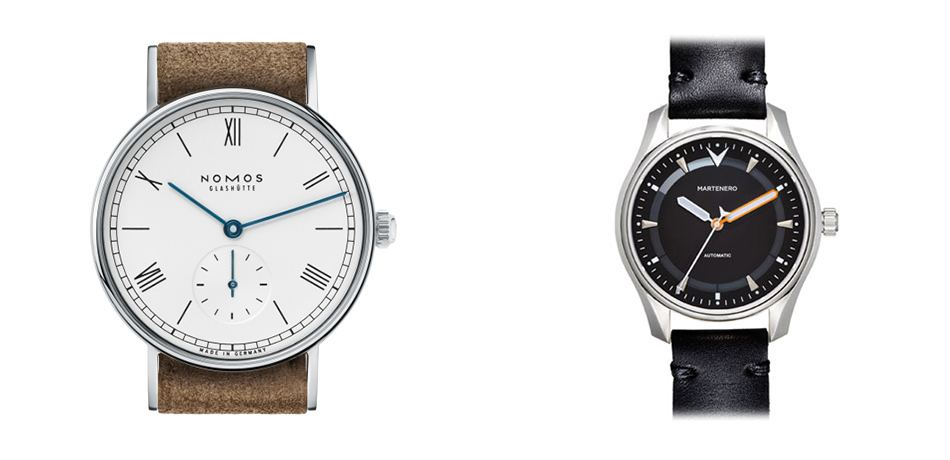 Seen here are The Ludwig Watch by Nomos and The Model II: Founder watch by Martenero
A Men's Jewelry Maximalist
If "blinged out" is more your style, then you're probably looking to take full advantage the prime real estate at the ends of your arms. That means cufflinks and bracelets are on tap for you. "Cufflinks are your opportunity to inject your personality into your otherwise very formal outfit." says Dennis Green, who covers men's style for Business Insider. While Dennis shuns the bracelet (more on that later), he believes in the power of cufflinks, noting that "there's really no way to go wrong with cufflinks."
"Cufflinks are your opportunity to inject your personality into your otherwise very formal outfit."
-Dennis Green of Business Insider
If you're a maximalist, you'll probably want to start with a statement piece watch. Michael recommends brands like Kobold that "come with a story that only adds to the allure of their watches." And the true maximalist should go hard or go home with a strong set of cufflinks like the ones you'll find in the Monsieur Fox collection and a truly killer men's bracelet like one from Giles and Brother.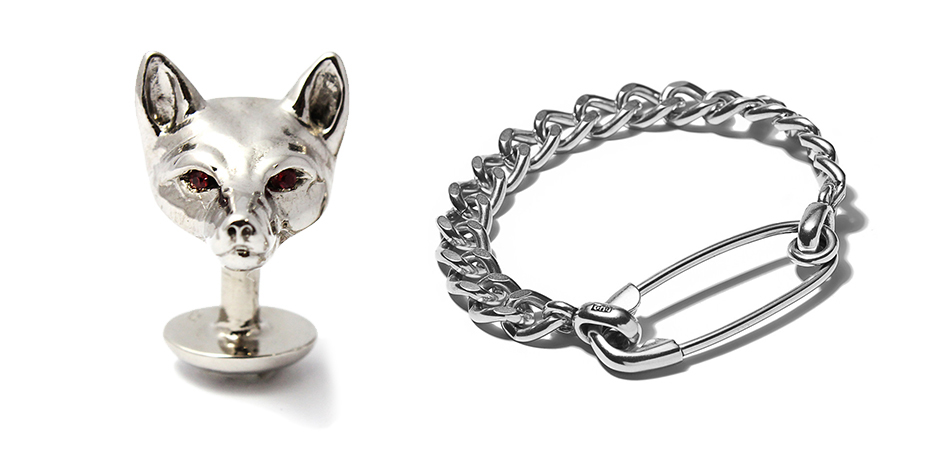 Seen here are The Phillipe Cufflinks by Monsieur Fox and Safety Pin I.D. Chain Bracelet by Giles and Brother
A Happy Medium
So maybe the extreme men's jewelry is off the table for you, but you want to be a step ahead of the basic look. In that case, you're probably looking to take the advice Dennis wrote in his story entitled "The only 3 pieces of jewelry men should wear." There he makes the case for a wedding band, a watch and a set of cufflinks being the only men's jewelry you should be wearing. When asked why bracelets didn't make the cut, he explained that bracelets "always look out of place with higher levels of formality."
We're not as anti-bracelets as Dennis, but we do suggest that a balanced approached to men's jewelry include only two items. One, a quality watch, and then either a bracelet or a set of cufflinks. Michael recommends brands like TAG Heuer for a versatile watch. Pro tip: go with a metal strap so you don't have to worry about matching your leathers. Yes, if you've got on black shoes and a black belt, wearing a brown leather watch strap is a fashion offense (though an, admittedly, mild one).
Next, show some restraint and choose either a bracelet or a set of cufflinks (not both). If you go with the bracelet, we suggest a simple ID bracelet in a metal that matches your watch. Wrap one of these understated around the wrist of your dominant hand (opposite your watch) to identify yourself as stylish.
If you go down the cufflinks path, Dennis suggests adding some personality: "My favorite is when guys use a bit of their favorite hobby, interest, or background." In other words, your cufflinks should tell a story. The story, of course, is up to you. A set of pencil cufflinks can say that you're a writer, or an 8th grade math teacher, or, if there is no logical connection, you could just make one up like this: "These cufflinks are to remind me that we all make mistakes in life, that's why we there are erasers, but we shouldn't let that stop us from making our mark on the world."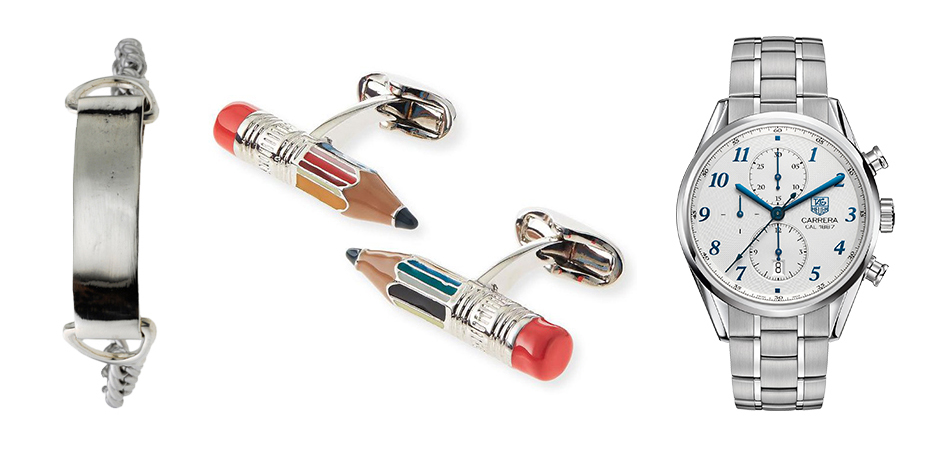 Seen here are Serious ID Bracelet by Scosha, Multi-Stripe Pencil Cufflinks byPaul Smith and The Carrera 1887 Heritage Watch by TagHeuer
A Grain of Salt
The above ideas are not hard and fast rules. Hell, they're not rules at all. They're guidelines. We're not big on rules at The Compass. We're more into guidance (hence the name, The Compass). Can you wear more stuff on your wrists? Sure. Can you wear nothing on your wrists? Fine by us.
These are some of our favorite looks, but that doesn't mean they've got to be yours. Speaking of your favorites…let us know what your favorite ways to dress your wrist are in the comments below.
---
Like What You See? There's More.
We'll send you style advice and intel for the modern man.
---