Anatomy of a Collection – Fall 2015 Suits
Published on September 4, 2015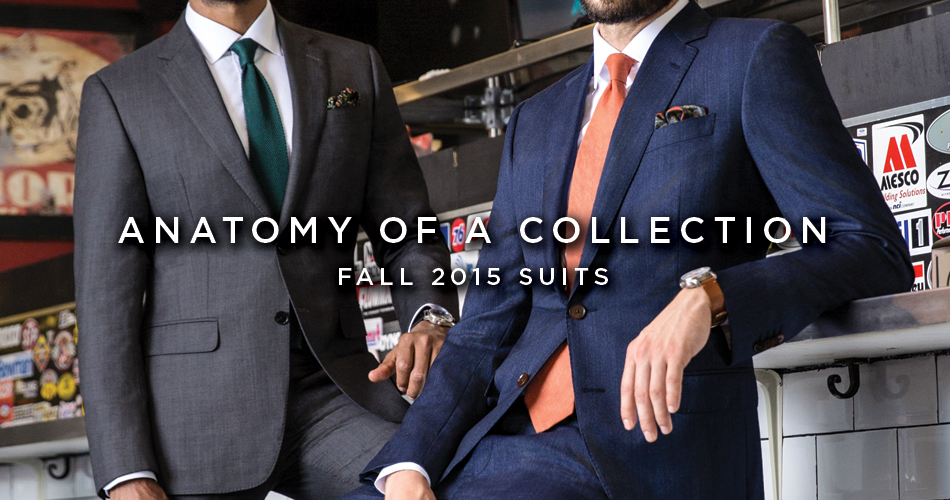 When the style gurus in our product design team started building the latest collection from Black Lapel, we sought inspiration from classic patterns and textures.
There's something to be said for the classics, particularly when the summer humidity gives way to a brisk fall breeze and we begin to add layers to our outfits. Crisp bright solids are relegated to the rear of the closet and matured tones and subtle textures make their way into men's fall fashion.
This collection of suits is our reinterpretation of the classics and we break down how we arrived at each new addition below.
---
Introducing The
Rivington Dusk Blue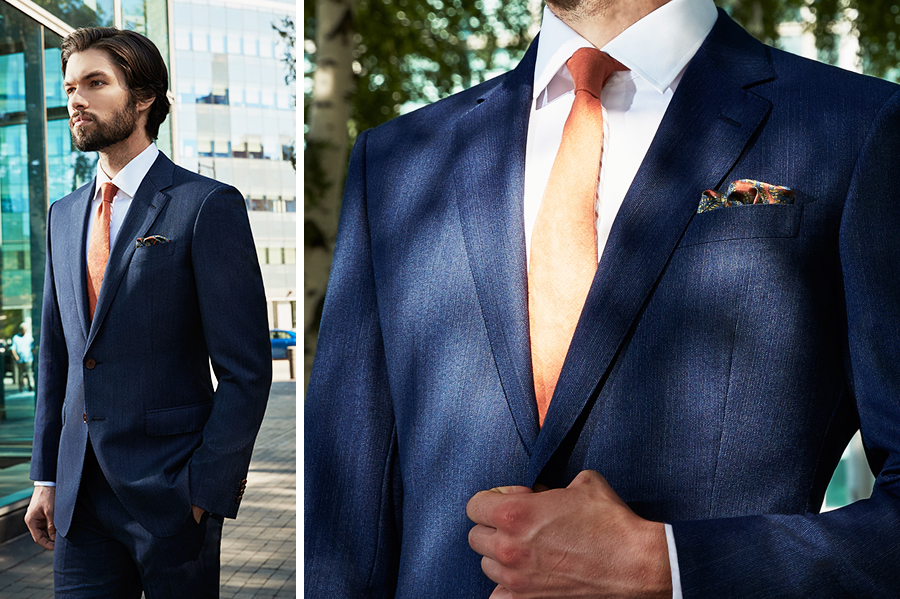 First we re-envisioned the dark blue suit. We decided to build on a rich blue hue by layering on a very fine herringbone design that is almost more texture than pattern. It's what gives this suit its signature striated appearance. We like this fabric so much we created it in a classic two-piece silhouette and added three-piece and double-breasted versions. Good luck deciding which version you want – we obviously couldn't.
---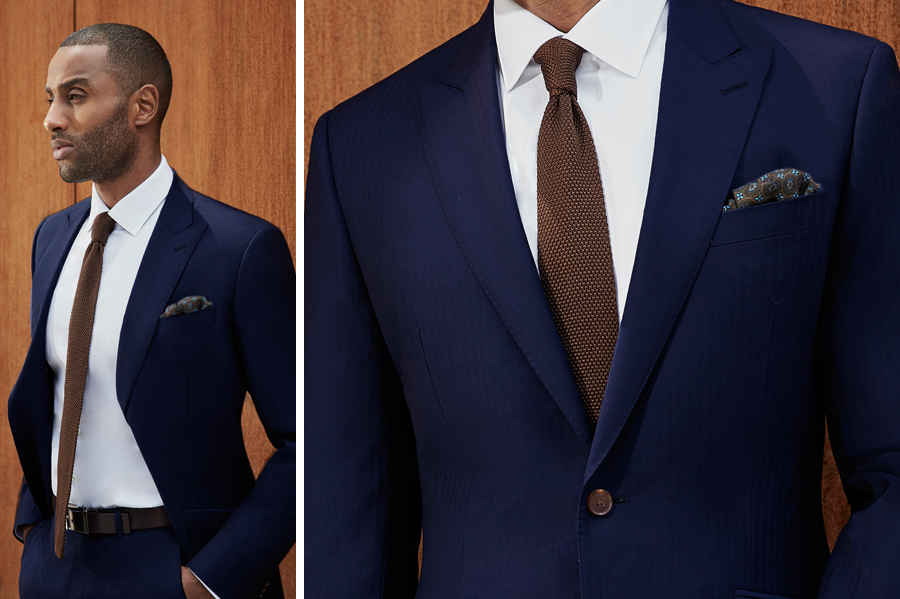 Not finished with blue yet, we sought out a unique shade for our full-sized herringbone offering. What we found was a Persian blue. Saturated and strong, we knew this deep blue was the perfect choice for a herringbone weave because of the way light bounces off of it. No other suit in our collection straddles bold and elegant this comfortably.
---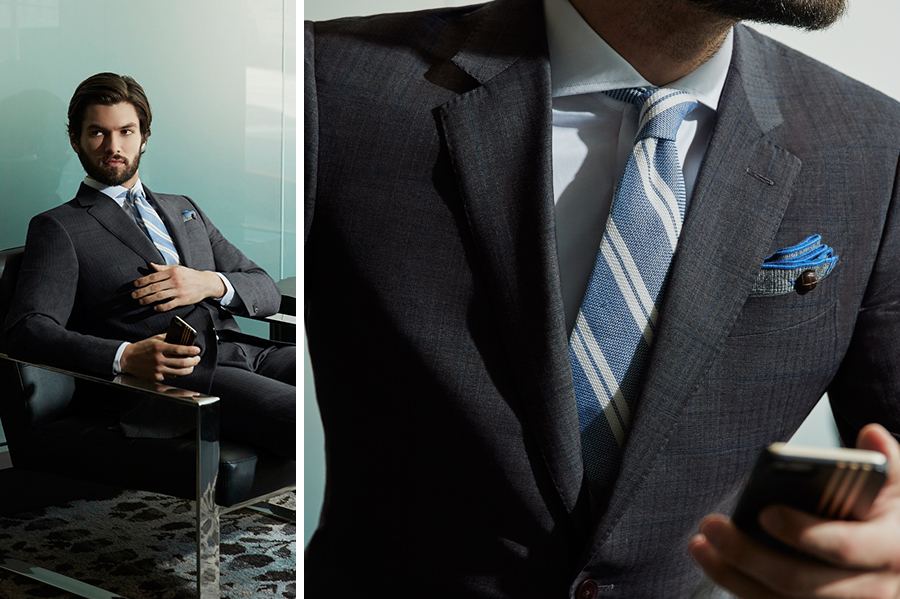 The herringbone, a nod to traditional tailoring, made a third appearance in this collection, but this time it surprised even us. We found this gray herringbone quietly residing beneath a subtle and fine blue windowpane pattern. The resulting combination is to the eye what a Mozart symphony is to the ear, layered with rich textures and complexities that work together in precise harmony. But if your tastes run more to Mos Def than Mozart, think of this as an homage to the classics, like that time Nas sampled Beethoven in "I Can".
---
Speaking of music, putting out a gray pinstripe suit is like covering a classic Beatles song: you better bring something new to it or why bother? We wanted something with a more modern spin that could still reflect the wearer's intent to get down to business. We found it with this tightly-spaced stripe that is the perfect cloth to shed the stodgy reputation of a pinstripe. It's enough to make you want to "Twist and Shout".
---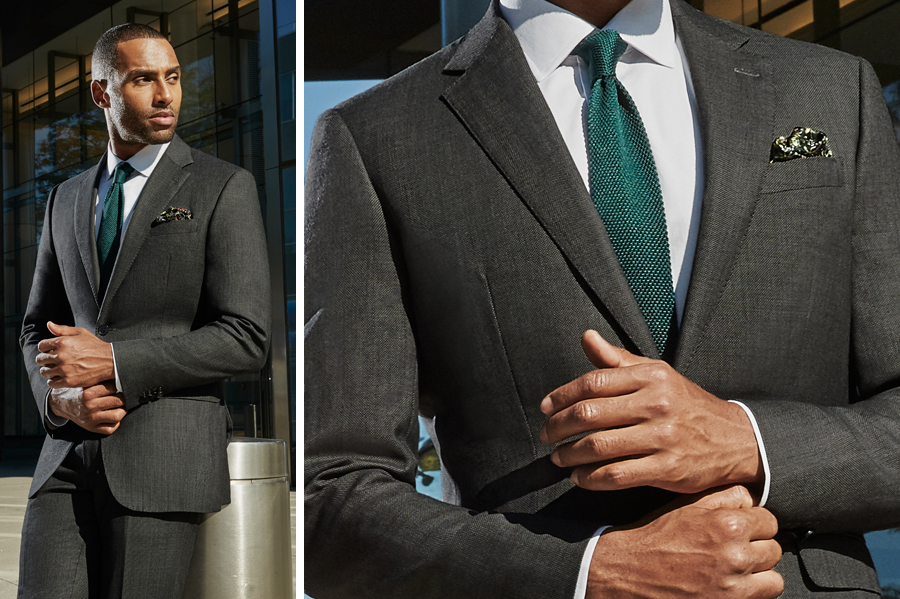 Of course, we love birdseye for its subtly texture and luxurious feel. So it made sense that we anchored this collection with a sensible hearty gray version of the classic birdseye pattern. Not only does this birdseye round out this collection, but it adds to the Black Lapel birdseye offering, complimenting our
Light Gray
and
Blue Gray
versions. Always sophisticated, birdseye continues to be both a customer and a stylist favorite.
Up Next: we'll break down the new collection of shirts for Fall 2015 from Black Lapel.
---
Like What You See? There's More.
We'll send you style advice and intel for the modern man.
---