Why James Bond Looks So Good In Black Tie
Published on November 13, 2015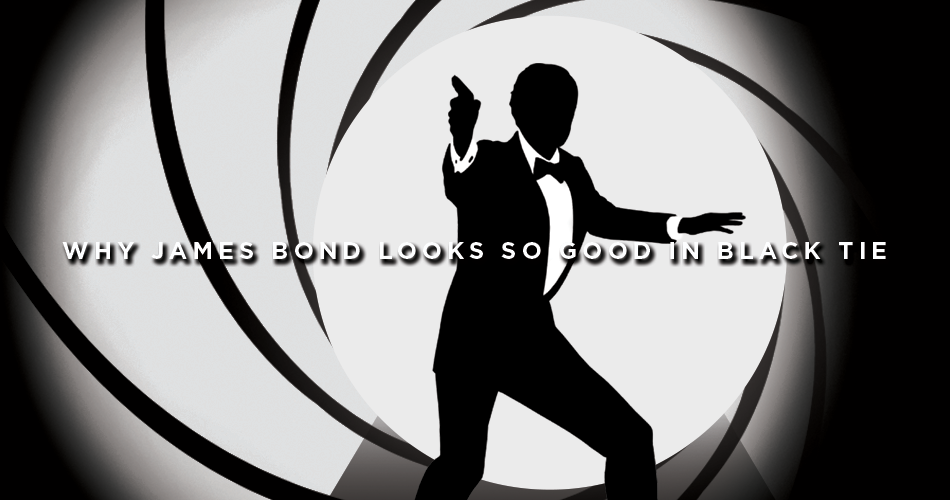 In 1962 the world got its first glimpse of a movie character who would become synonymous with badassery. He had become a legend to those who had read the Ian Fleming novels, but no one had seen him on screen until the release of the first Bond film: Dr. No. And when we got that first glimpse of James Bond, we didn't see his face right away. Employing a classic filmmaking technique, the filmmakers don't show him to us right away. They build up his first appearance.
At first we just see a hand and an arm, dealing cards. That arm is swathed in a nearly black and a perfectly crisp white French cuffed shirt peeks out as it disburses cards. The camera pulls back and we see over the dealer's shoulder, but we still haven't gotten a good look at him (partially because it's hard to take your eyes off of the fetching Sylvia Trench, played alluringly by Eunice Gayson). After another hand in the game of baccarat, in which we still only see the dealer's hands deftly passing out more cards, we hear the him speak for the first time.
"I admire your courage, Ms. um…" he says coyly.
"Trench, Sylvia Trench," she replies, "I admire your luck Mr…."
And this is the part where the movie world changes forever. This is the moment when the man who has been holding the cards is revealed and we come face to face with the embodiment of effortless cool as we hard cut to a shot of Sean Connery in his well-appointed shawl lapel, midnight blue tuxedo. This is the first time we heard him say "Bond," as the classic theme music chimes in, "James Bond."
And from there, it's on. Sylvia Trench raises the stakes in their game and everybody within a country mile can see where this is going. He's not only just begun seducing Ms. Trench, but the entire movie watching world.
---

Fast forward to today and it's been 52 years since Sean Connery first proclaimed that he was Bond…James Bond, but the movies are still being released. And one more thing continues. Spectre, which recently opened in theaters, features current 007, Daniel Craig, in formal pants and an ivory dinner jacket on the poster. Time passes and with it, the villains Bond faces have changed from Cold War era ne'er-do-wells to modern day nemeses, but one thing that has remained consistent about Bond: his penchant for black tie.
---
James Bond knows when to wear a tuxedo
From that first moment the world saw him in Dr. No, to the poster for the most recent installment, Spectre, you'll find James Bond clad in a tuxedo. Yet, he's not always in a tux. He doesn't wear a tuxedo like, say, Ricky Ricardo wore suits all the time on "I Love Lucy". Bond's tuxedos are not what he wears to the swimming pool or to go to the grocery store. He wears black tie because black tie is appropriate for the events he attends. And that's part of what makes him look so good in black tie. He's always dressed for the occasion. He's never the only one trying to pull off an Unsuit at a black tie only affair. He knows better.
Etiquette is central to James Bond's character. He's always a gentleman, even though he is a rakish one at that. He might kill a few henchmen a night but he does so surely within the bounds of etiquette (he is British, after all). And knowing when to wear a tuxedo is probably the most important part of looking great in black tie.
---
James Bond nails the details…usually
A tuxedo is one of the few things you wear that comes with its own set of rules. It's one of the last vestiges of the days when what you wore, how you wore it, where you put your fork when you ate, how many forks you had when you ate and a host of other little things all had very specific meaning and reflected on your standing in society. James Bond creator, Ian Fleming, born into the British upper class, knew that world well. Following the writer's rule, write what you know, Fleming inserted Bond into a variety of high class environments and Bond seamlessly fit in. From cufflinks to cummerbund early James Bond was always natty and followed the traditional black tie rules.
Unfortunately, James Bond seemed to lose his way for a while. The one-hit wonder of James Bond actors, George Lazenby, wore a frilly tuxedo shirt that may have been on trend but today makes us cringe like photos of equally frilly shirts from 1970s prom pictures. Timothy Dalton's eighties Bond lost style points for wearing clip-on suspenders and no cummerbund to cover them up.
---
James Bond isn't afraid to mix things up
James Bond may know the rules and can put together a stylish black tie getup but he's not a slave to tradition. He wears blue, like the midnight navy he sported when first introduced to the movie going public and more recently in Skyfall. Bond even mixes in some white, like the white braces Daniel Craig donned in Casino Royale or ivory dinner jackets he's worn in many of the 007 films, including the latest installment, Spectre.
This particular dinner jacket, with two buttons, is a bit unorthodox, but when it's accessorized with a red carnation, a Walther PKK and a license to kill, we're not exactly volunteering to be the ones to tell Bond that he's breaking the rules of black tie. In fact, it's this willingness to show some creativity within the bounds of black tie that keeps Bond looking consistently great in black tie.
---
Be like Bond
Of course, it's no secret that just about everyone looks good in black tie. The simplicity of the outfit and built-in formality of the look imbue the wearer with a healthy dose of swag. A tuxedo is just that powerful. As Dean Martin once said "In a tuxedo, I'm a star. In regular clothes, I'm a nobody."
Well, if you read The Compass, you probably already cut a pretty dashing figure in your regular clothes, so we wouldn't go as far as to call you a nobody, but put on a tux this holiday season, wear it well, and go build your own legend.
---
Like What You See? There's More.
We'll send you style advice and intel for the modern man.
---