A Gift Guide from Black Lapel
Published on December 5, 2014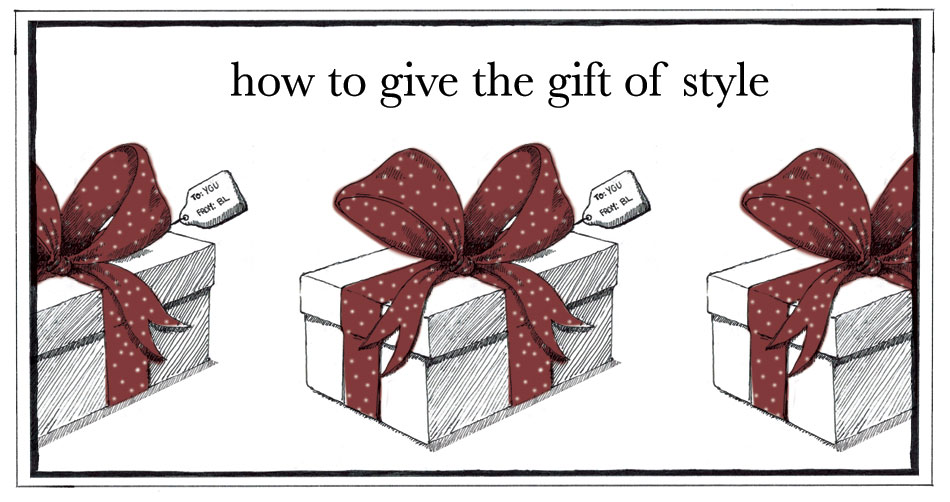 How to give stylish gifts is a question that we've been kicking around at Black Lapel for a while. When you make stylish menswear, you get questions like "How can I nudge my boyfriend into dressing better?" or "How do you suggest I wean my father off of the oversized shirts he's been rocking since 1999?" Sometimes we even get "My brother's got style, and is a bit of a menswear snob. How do I give him a gift that he doesn't already have and he won't scoff at?" And every year around this time of year, we get asked for gift ideas.
So we decided to make , a Black Lapel Gift Guide that helps give the gift of style. Below you'll find stylish gifts for all sorts of guys. Let's get started.

Step 1: Understand the target market
Who is this guy you're shopping for? The secret to giving great gifts is knowing your audience. But a deep understanding of the psyche of the guy you're shopping for is not necessary. You don't need to know if he's got an Oedipal complex or even what his favorite movies of the 90s are. All you need to know to give the gift of style is what level he's on already.
Is he a newbie, just starting off on his sartorial journey and building his wardrobe. Or is he a level up? He's got some suits (the same tried and true ones he trots out to every event he goes to), but he's not exactly winning any Best Dressed awards. Maybe the fit is off or the styles are little blah. Perhaps you've got a guy on your list who's got a closet full of winners and draws attention for his sprezzatura.

Step 2: Define your budget
You probably don't want to break the bank to give a gift, but you don't want to look cheap either. When gift shopping, it's a good idea to set some budget guidelines. Your budget is your call, but to make things easier the guide below offers suggestions in the under $50, $50 – $100 and over $100 price ranges.

Step 3: Shop smart
Who's got time or patience for shopping malls and busy department stores? We don't know about you, but nothing gets us out of the spirit of giving and into the spirit of "get me the hell out of here" quicker than elbowing with pushy deal-hunters, while being subjected to George Michael's Last Christmas playing over the speakers in some crowded store.. Leave time for shipping, make a plan and shop online. (All of the gifts in this guide can be purchased online, just click the products below.)


2. Wool Cardigan
$50-$100
1. Wool Dress Socks – <$50
At the end of 2013 the folks over at GQ asked "Not sure if we missed the memo on this one, but how come so many people decided socks would be a 'thing' in 2013?" A year has gone by and the sock movement in menswear shows no signs of slowing down. As we've noted in the past, stepping up your sock game is a surefire way to move up the style ranks.
The beauty of giving a guy a pair of stylish wool socks is not in how novel they are (though we've got nothing against socks that stand out). The strength of a great pair of socks as a gift choice is that they're the kind of thing most guys won't buy themselves. Sure, they'll drop a few bucks on some cotton blended socks that will fade and deteriorate over time, but they won't invest in a high-end pair of wool socks, like these from Bresciani that look great, feel good and are made to last
2. Wool cardigan in a neutral color – $50-$100
Is there any more useful sweater than a wool cardigan? A slim cut one in fine Merino wool like this one adds warmth without bulk to almost any outfit.
Use it to "winterize" a medium gray or blue suit and tie look. As the temperatures rise, you can add it to a simple white T-shirt and jeans getup for a touch of refinement. He'll be amazed with how this one addition to his closet adds versatility and style.
3. Mr. Nice Tie Grey Wool Plaid Tie – >$100
A good collection of ties is the hallmark of a great wardrobe. Usually, a guy who's just starting out in the professional world stocks up on silk ties in a range of colors to get him through the work week. But most guys sleep on the unexpected awesomeness of wool ties for the cooler months. In a neutral color, like this one, a wool tie adds texture and seasonal flair to just about any outfit.
These are the ties that Miami Heat star (and one of the most stylish men of the new fashion-plate era of the NBA) Chris Bosh wears all through basketball season. How do we know that? Because he collaborated with the dapper gents at Armstrong & Wilson to design and create the whole Mr. Nice Tie line of accessories. Give this gift and you'll definitely be helping the recipient raise his style game to new heights (6'11" NBA All-Star and all-around stylish dude heights).


1. Silk knot cufflinks
<$50
2. Navy Silk Knit
$50-$100
3. Silk-Jacquard Pocket Square
>$100
1. Silk knot cufflinks – <$50
Cufflinks can be intimidating. Many guys think wearing them is too bold or too flashy. That is, until the advent of the silk knot cufflink. Silk knotstake the glitz out of the cufflink equation. All that's left is understated elegance.
We love this set of links as a gift because they're so versatile. In neutral, easy to pair black, white and navy blue, it's hard to find an outfit these links couldn't dress up. Plus, depending on which side you wear, these three sets of cufflinks can be worn five different ways. That's one-stop style shopping at its best.
2. Navy Silk Knit Tie – $50-$100
There are knit ties and then there are silk knit ties. Knit ties can introduce some coarseness to an otherwise smooth look (think dark suits and white shirts). But when they're silk, knit ties add texture while retaining their luxurious feel. Still, that doesn't mean silk knit ties won't fit right in with a more rugged outfit like a pair of jeans and an oxford shirt for a laid-back look.
A silk knit tie's versatility is also what makes this tie such a great gift. The five-days-a-week suit guy and the more casual dresser can both find plenty of ways to incorporate this neutral colored, tie into their wardrobe.
3. Skull Silk-Jacquard Pocket Square >$100
When it comes to pocket squares, many men opt for the simplest, plainest (and cheapest) white squares they can find and wear them to death. Worse still, lots of guys just don't wear pocket squares at all leaving their whole suit or blazer presentation a little flat.
But give a guy this square and you're not only giving him a change of pace from the standard, solid pocket square. With its irreverent skull motif you're giving him a conversation piece. Oh, and did we mention, because it's navy blue and bronze, like the other silk options above, this pocket square goes with almost everything.


2. BeltCraft Gift Card
$50-$100
3. Nappa Leather Gloves
>$100
1. Embossed Leather Skinny Cuff – <$50
The men's bracelet boom of late has largely been driven by stylish men snapping them up and piling them on in various combinations. Loyal readers will remember that we highlighted the well-dressed wrist a while back in The Compass.
After first becoming popular among the "menswear guys" the bracelet look is now seen in less fashion-forward circles (read: everywhere you look). So how do you help the dapper dude on your gift list ahead of the crowd? A leather cuff that's embossed with his monogram isn't just another bracelet to add to his collection. The monogram gives you three letters/numbers to turn that bracelet into a unique and personal piece.
2. BeltCraft Gift Card – $50-$100
The guy who's got everything, at least in terms of style, probably has a killer selection of shoes. Chances are he's even got some outliers beyond just the traditional black and dark brown pairs. Maybe he's got a pair of magnificent cognac hued brogues that have been building a patina for years or a pair of navy wholecuts that he brings out on special occasions.
He knows the rules say that his belt ought to match his shoes, but where are you going to find belts in all the rich colors of his shoe collection? BeltCraft Custom Belts. That's where. A $75 gift card from BeltCraft will get him a fully-customized belt in whatever colors/style he can come up with.
3. Nappa Leather Gloves >$100
Anyone who doesn't live in the tropics and considers himself stylish needs at least one good pair of gloves to get him through the winter.
The well-dressed man probably has a pair in black or brown, but does he have some in burgundy, light gray or navy blue? Does he have some that are lined with cashmere? He will when you give him a pair of these gloves from Fort Belvedere.
Armed with this gift guide you can make this the year you finally master the art of gift giving. How are you giving the gift of style this holiday season?
---
Like What You See? There's More.
We'll send you style advice and intel for the modern man.
---